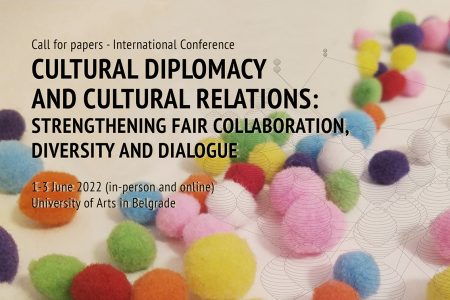 Call for Papers: "Cultural Diplomacy and Cultural Relations: Strengthening Fair Collaboration, Diversity and Dialogue", 1-3 June 2022
21. February 2022
University of Arts in Belgrade is organizing the International Academic Conference on cultural diplomacy and cultural relations, on the occasion of the launching of a new master programme on cultural diplomacy.
Programme Committee Chair Prof. Mirjana Nikolić, PhD, Rector of the University of Arts
Organizing Committee Chair Prof. Ljiljana Rogač Mijatović, PhD
The changes over the past decades within international relations have led to an interdependent world facing global challenges, with significant consequences on cultural diversity and peaceful relations among peoples. In many areas across the world conflicts are developing rapidly, while at the same time the need for strengthening international cooperation is becoming obvious. With this common concern, academic experts in international relations as well as cultural practitioners and professionals are invited to explore the role of culture in the framework of international relations and policies, especially in the context of the current world situations.
The aim of the conference is to provide an open dialogue on existing concepts, policies and instruments of cultural diplomacy and cultural relations, as well as to map the framework of new paradigms and visions for the future. The conference will offer possibilities for different stakeholders – university professors, researchers, cultural experts and practitioners to reflect upon the policies and principles guiding international cultural cooperation. The main challenges to be addressed relate to the structures, conditions and processes for the development and implementation of more fair, inclusive and equitable collaborations and partnerships for the future.
The partner of the conference is the Austrian Cultural Forum in Belgrade that is holding the presidency of the EUNIC cluster Serbia in 2022.
Please send your submission via email: conference@arts.bg.ac.rs
Main languages of the conference are English and Serbian.
The registration fee per participant is 30 EUR after the selection of applications.
The Deadline for Submission is the 20th of April, 2022, 1200 GMT.
More information about the conference http://www.arts.bg.ac.rs/en/dpa-conference/cultural-diplomacy-and-cultural-relations-strengthening-fair-collaboration-diversity-and-dialogue/