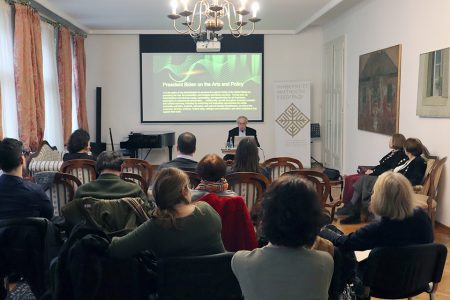 Lectures by Visiting Professors from the USA and Russia held on the University of Arts, February 2-3, 2023
8. February 2023
Within the series of guest lectures at the UNESCO Chair for Interculturalism, Art and Cultural Management and Mediation in the Balkans, on February 2nd  and 3rd , two lectures by guests from abroad were held in the Rector's Hall of the University of Arts.
Under the title "Does the US have a cultural policy?" professor emeritus and head of the Department of Business and Entrepreneurship at Columbia College in Chicago, Denise Rich, PhD, gave a lecture on the topic of funding of arts and culture in the USA, which takes place at the level of federal, state and local governments. Professor Rich pointed out that in 1965, the USA determination to create a positive environment that facilitates access to cultural events, encourages individual achievements, connects state and private funds, etc. was expressed by the formation of the national legislative for the arts and humanities. Since its adoption until today, the share of private financing of cultural institutions has increased from half to ten billion dollars in 2021.
A special part of the lecture was dedicated, through survey and case studies, to the share of different sources of funding for museums and theaters, as well as the ways of survival and financing of the non-governmental sector, which disposes of over 23 billion dollars a year in donations. Nevertheless, precisely because of the predominant private sources of funding, the American art scene is subject to a new conservatism that imposes partial censorship, and on the other hand, there is a constant risk of strengthening "corporate" art in which only large institutions can receive adequate financial support, because they have greater marketing potential.
The second lecture entitled "Pandemic and art, a comparison: USA and RUSSIA" was held together by prof. Rich and Professor Ekaterina L. Shekova, PhD from Saint Petersburg State University of Film and TV. Considering that the COVID-19 pandemic affected the culture and art of all countries of the world in different ways, a comparative analysis of the situation in the USA and Russia showed that the smaller cultural institutions which were deprived of income (tickets, subscriptions) and the possibility of presenting programs, bore the greatest burden, while larger cultural institutions in both countries adapted to the new situation although with significant financial losses, opting for online marketing and communication with potential audiences through virtual galleries.
The guest lectures aroused great interest among students and the professionals, with a dynamic discussion and exchange of opinions after the official part of the presentations.