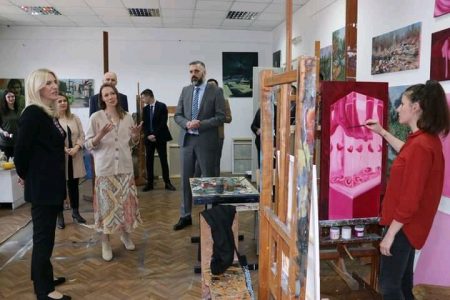 MY STUDENT MOBILITY IN BANJA LUKA: Sara Milojević, Faculty of Fine Arts
11. July 2022
Sara Milojević
University of Arts in Belgrade, Faculty of Fine Arts
Erasmus+ Mobility for Studies at:
Academy of arts, University of Banja Luka, Bosnia and Herzegovina
Erasmus mobility was realized at the Academy of Arts in Banja Luka, in the department of painting. My first impression of the exchange at the Academy of Arts in Banja Luka was very positive because I came to a very welcoming and hospitable environment. Mentors and students were very accommodating and made me soon adapt to the new environment and get to know their way of working at the academy and also outside of the academic environment. I liked the organization of the University of Arts where all branches of art are in one place and there is a positive exchange between students and artistic approaches which is the difference compared to the academy in Belgrade. I think that this is very important for artistic creation and therefore I was thrilled to be able to attend performances and work from other fields of art that are not exclusively fine arts. Which contributed to my development of ideas and connection of different ways of creating.
During my stay at the Academy of Arts, I attended interesting lectures and expanded my previous experiences. In addition to the regular program, there were important guest appearances and workshops by various artists from the region, with which I had the opportunity to meet and exchange experiences. I would like to mention important workshops for me, which dealt with the topic of site specifics art and psycho-geographic maps, as well as the new medium and field which connect science and art in a very successful way. The workshops also enabled me to explore the city through artistic work and to meet people as well as important places in the city. The city of Banja Luka is full of contrasts, both historical and visual, which provides various life opportunities and feels like a place that is open for the development and realization of artistic experiments. I also have good impressions of the Museum of Contemporary Art, which has a wonderful collaboration with the Academy of Arts and organizes very current significant exhibitions and events in the region. During my stay at the department of painting, I made significant progress in my artwork and together with a mentor with whom I had wonderful communication, I managed to develop my art practice and establish the main points for my art research that I will use in the future, to work on my doctoral art project.
This exchange contributed the most to my artistic research and enabled me to adequately educate my artistic expression so far. I was very satisfied with the work atmosphere and the colleagues I worked with, as well as the mentors, who provided me with theoretical support and motivation for the realization of ideas. In addition to the academic competencies I gained in this exchange, I met wonderful people and made friends ( artists) with whom I will continue to collaborate in the future. I think this was a unique experience and I would recommend it to all colleagues who want to travel and enrich their experience both artistically and in general.