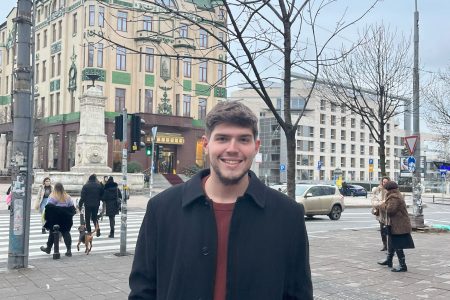 MY STUDENT MOBILITY IN BELGRADE: Stefan Lopandić
21. July 2023
Stefan Lopandić
University of Banja Luka, Bosnia and Herzegovina
Erasmus+ Mobility for Studies at:
University of Arts in Belgrade, Faculty of Music
Hello, I am Stefan and this is my Erasmus exchange report. I spent 4 months on student mobility at the Faculty of music arts in Belgrade from October 3, 2022, to February 2, 2023.
Upon my arrival, I was warmly welcomed by my piano professor Lidija Stanković. I was very thankful and honoured to be part of such an amazing class of pianists. Prof Lidija is hard-working and very much devoted to her students. I played Schuman's Piano concerto in a minor for that semester. It is one of the hardest works in piano literature and Professor Lidija really helped me to play the piece as good as I can. Working with hrt definitely helped me a lot with piano technique and understanding piano music in general. The individual classes were pleasant and very productive because prof Lidija was an excellent teacher. I was delighted that my colleagues from the class were very supportive. We often would play and comment on each other. In that way, the progress of piano playing is way more productive and quicker. But the best of all is that everyone was kind to me as their guest and always near to help.
In December 14, 2022. I was part of a big concert devoted to Darinka Matić Mitrović, performing Carl Orf's cantata Carmina Burana. The concert was held at Kolarac's Endowment, conducted by Biljana Radovanović Brkanović. Prof Darinka was one of the biggest and most important Serbian conductors that left their legacies for generations and I was honoured to sing tenor in the student choir of the Faculty of Music. It was an amazing experience for me in many ways. Singing in choir was always a big passion for me and now I had an opportunity to sing with three choirs and a big symphonic orchestra. Where I come from, these types of events are very rear, so I wanted to make my exchange program as interesting as possible. I learned a lot about singing in a big choir and working with people.
I had a wonderful time in Belgrade. I've made a lot of friends my entire life that share the same interests as me. Belgrade is a huge city where you can find a lot of people to connect with and make new experiences. Belgrade as a city for studying is very dynamic and has a lot to offer. I owe thanks to the Erasmus team at the Academy of Arts in Banjaluka for making this mobility possible and to coordinators and professors at the Faculty of Music at the University of Arts in Belgrade for their kindness and hospitality. For everyone who wishes to have a similar studying experience, I would highly recommend applying for the Erasmus student exchange program.