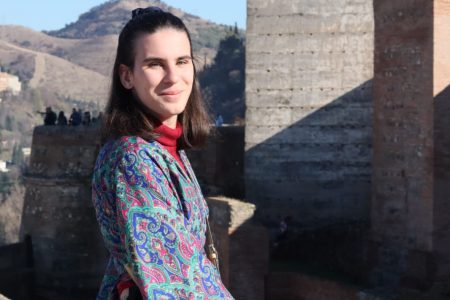 MY STUDENT MOBILITY IN GRANADA: Jana Borojević
21. February 2023
Jana Borojević
University of Arts in Belgrade, Faculty of Applied Arts
Erasmus+ Mobility for Studies at:
I am a fourth-year graphic design student and for my semester abroad, I choose Granada. It was my first choice because of the city's beauty and cultural significance, the language seemed interesting and not that hard to learn, and the Spanish sunny weather also didn't hurt.
At ESADA, my receiving institution, I was warmly welcomed alongside the other Erasmus students. We were given a tour of the school and the city, and then a meal with traditional Spanish dishes, while we chatted and got to know each other. My mobility coordinator, Felix, was very kind and helpful and all of my questions were soon answered and issues resolved. The model of work and the subjects themselves differed from what I was used to at my home institution, so it was an interesting change. The knowledge from every individual subject was used to work towards one big project, which helped me learn to integrate different skills and better plan my workflow. The courses were also oriented more toward the marketing and business side of design, which nicely complemented the knowledge I already had. I learned some new and useful skills such as animation and application prototyping. My classes were in Spanish, so there was a language barrier, but I took advantage of the Spanish course the faculty offered and the teachers were helpful and took the time to explain in English the things I didn't understand. Studying in a language I did speak was challenging, but it helped me learn the language in an organic and effective way, picking up more of it as time went on. I made friends both Spanish and international, which made my experience what it was and I trust we'll stay in touch and do all the visits and traveling together we planned for the summer.
Granada is a beautiful city to visit, and even more beautiful to live in. It is peaceful but it is never boring, with its rich social life catering especially to its many students, both foreign and from every part of Spain. There are a few organizations for exchange students that host numerous free events, like hiking trips, board game nights, various workshops, and many more, which makes meeting other Erasmus students very easy. Granada is famous for its tapas, free little meals or snacks you get with drinks and it's full of bars to satisfy every taste, as well as many clubs. Seemingly on the flip side of the coin, but actually intertwined with its nightlife is Granada's cultural heritage. The city is rich in history from both Muslim and Christian times and it creates a very unique experience. The traditional teashops, Arabic food both in higher-end Moroccan restaurants and street food kebab, intricate decorations on buildings, and the historic neighborhoods of Albaicin and Sacromonte all tell the story of Granada's Muslim roots that still have influence today. Overlooking the city is the gorgeous Alhambra, the most visited cultural monument in Spain, and for a good reason. Its palaces and gardens are sure to inspire every artist and I'm sure some of its motives will find their way into my designs. Another advantage of Granada is its location in the Andalucia region, which is perfect for making day trips to other nearby cities, such as Malaga, Seville, Cordoba, or the snowy mountain range of Sierra Nevada.
All in all, my Erasmus mobility was a big adventure and a learning experience. Even the parts that were challenging were challenges I gladly took on and they helped me develop new skills or learn something about myself. I hope that one day I'll visit Granada again, and I sincerely recommend the Erasmus experience to other students.