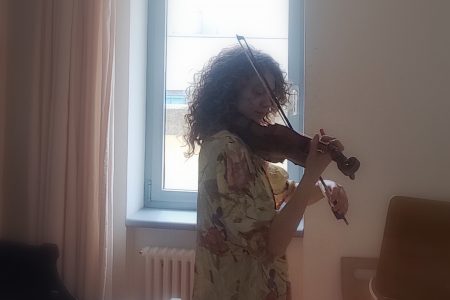 MY STUDENT MOBILITY IN MANNHEIM: Miona Topalović
2. August 2023
Miona Topalović
University of Arts in Belgrade, Faculty of Music
Erasmus+ Mobility for Studies at:
Staatliche Hochschule für Musik und Darstellende Kunst in Mannheim,
Germany
Studying at the Staatliche Hochschule für Musik und Darstellende Kunst in Mannheim, Germany has been a life changing experience for me. This short essay isn't sufficient enough in describing my forever gratefulness towards this Erasmus student mobility, as this scholarship has helped me immensely.
Studying in Mannheim has been a perfect opportunity to further develop my playing and learning skills as well as learning a new language and meeting people from different cultures. Mannheim is a lovely city, with many international students. There are many concerts and cultural events, but also plenty of student activities. I was also a resident in one of the Studierendenwerk Mannheim student housing which is a great living situation. The Musikhoschschule is a school of great standard, with two buildings with plenty of practice rooms with a perfect acoustic. There is also a Kammermusiksal for concerts, in which I played in two class concerts. Also there is a Cafeteria in the new building of the school so you can spend your whole days at the school comfortably. I was so happy with the atmosphere in the school, as all the students were so kind and helpful towards me when I arrived.
Studying with prof. Marco Rizzi has been the most impactful learning experience in my schooling so far, as he is a renowned professor and player. His knowledge and love towards music seems unlimited. I was always going to my classes happy and relaxed, and going out inspired and motivated to learn and create music. I also played chamber music in a trio, with another Erasmus student from Latvia. I had several concerts in the school opera project so I had plenty of opportunities to work with other students. I was attending the German course which is provided for all foreign students. I also explored other cities in the Baden-Wurttemberg area, for example, I went to concerts in Heidelberg, to the Spring music festival which had a colorful programm all throughout April, and also went to some concerts in a lovely Theater house in Neustadt.
This student mobility period has also been a very important moment for me to really think and reflect about my education so far, and I feel so much more confident in my choices going forward. I would wholeheartedly recommend it to all students, which I definitely will be doing.