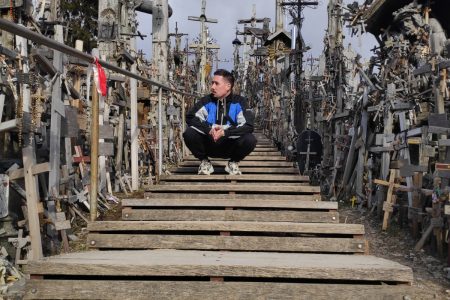 MY STUDENT MOBILITY IN VILNIUS: Igor Sarajlić
11. October 2022
Igor Sarajlić
University of Arts in Belgrade, Faculty of Music
Erasmus+ Mobility for Studies at:
Academy of Music and Performing Arts in Vilnius, Lithuania
Among the universities that were presented to me as a possibility of exchange, LMTA had a similar study program to my sending institution. From the moment of enrollment to the process of application I was fortunate to come across significant assistance and full cooperation coming from both Lithuanian and Serbian coordinators, which made the whole application process so much easier. The motivation for the selection of Lithuania's hosting university is a connection between the characteristics of pagan and ancient traditions and my doctoral thesis. Elements of the ancient pagan tradition present in Lithuanian folk songs that belong to the group of calendar, ritual and starting songs, are based on the oldest principles of multi-voiced vocal music: heterophony, parallelism, canon and free imitation. These characteristics of folk music have been the focus of my doctoral thesis since the composition Symphony of the Orient is based on combining traditional folk elements with classical composition techniques. Therefore, the experience of getting in touch with Lithuanian culture was extremely important for shaping my doctoral art project.
My expectation was to obtain more practice in working with classical orchestras. I was given a chance to become a student of Dainius Pavilion is and be of assistance of Modestas Barkauskas. Dainius Pavilionis was my professor of conducting who gave me a chance to rehearse with the Lithuanian Armed Forces Headquarters orchestra, and at the end of the semester on the 27. may I had a final concert with this ensemble. Modestas Barkauskas allowed me to conduct rehearsals and practice with LMTA student orchestra as well as St. Christopher chamber orchestra, where Modestas is the chief conductor. An opportunity to get to know and have professional practice with such prolific and exceptional conductors is going to immensely influence my musical perspective and professional growth.
The methodology of teaching is similar to my professors and my home university, with one major difference. Obtaining constant orchestral practice for conductors is crucial, which I have been given chance here in comparison to my university.
The greatest challenge was getting in touch for the first time with the music of Lithuanian, Latvian and Estonian contemporary composers through rehearsals with orchestras, both professional and student orchestras. This experience gave me an insight into the contemporary music scene and performance of Lithuania and surrounding countries.
The Erasmus exchange program allows you to meet and make connections with various people of different specialties and different backgrounds. The University of LMTA offers a study program for classical and contemporary musicians, theater, dance and cinema direction programs. These students keep a close relationship by working together on many different projects and performances. Erasmus exchange students also come from numerous countries, therefore giving me a chance to immerse into the culture of Greece, Turkey, Georgia, Italy and Ukraine.
My advice for the students that will take an opportunity to become Erasmus exchange students is to keep an open mind, set their study goals and prepare mentally for an extensive amount of paperwork.