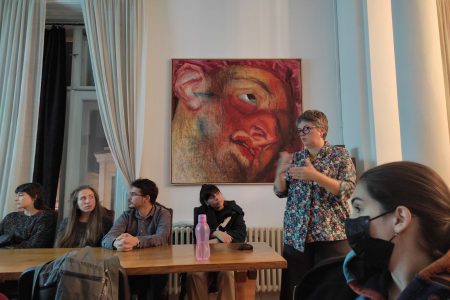 MY TEACHING EXPERIENCE IN BELGRADE: Jasmina Gavrankapetanović Redžić, University of Sarajevo
12. January 2023
Jasmina Gavrankapetanović Redžić
University of Sarajevo, Bosnia and Herzegovina
Erasmus+ Mobility for Teaching at:
University of Arts in Belgrade, Faculty of Fine Arts
During the five working days I spent in Belgrade, I had the opportunity to meet fellow
professors, administrative staff and students of the University of Arts and Faculty of
Fine Arts.
I received a very warm welcome from prof Svetlana Volic, vice dean for international
cooperation, prof Jelena Todorović and assistant prof Stefan Tasić, and enjoyed
meeting and exchanging about experiences we have on a daily basis in the course of our
work. During the guided visits to the faculty's art studios on my first and second day
with Ms Nataša Kokić, Senior TA I gained valuable insights into the teaching process in
post-pandemic conditions.
On my third day, I held a lecture on the topic of "Politics of Identity and Memory in
Okinawa Contemporary Art." The lecture lasted 1,5 hours and was attended by about 30
students. Okinawa's art scene was a topic of my Ph.D. dissertation. It is something that I
am actively writing and researching about, and I was happy to share some of my
insights into, from the SEE perspective, this relatively little-known topic.
The lecture offered a brief introduction to Okinawa Prefecture after the Second World
War and the issues of military bases in Okinawa and Japan. Students were acquainted
with the three waves of protests that marked the social and political life of this
southern Japanese prefecture, from the 1950s until today. In the last part, I presented
four contemporary artists (Tanaka Mutsuji, Chibana Hitoshi, Yamashiro Chikako and
Miyasato Hidekazu) whose artworks question the problems of militarisation,
occupation, historical trauma and gender. A brief overview of Sakima Art Museum, a
private art museum located in Ginowan, next to the Futenma Air Station, was also given
as an example of the overlapping of curatorial practice, art and peace activism.
Following the lecture, I presented some practical information for studying abroad,
more particularly in Japan. Since I completed an MA degree in 2006 at the Okinawa
Prefectural University of Arts under the MEXT, Government of Japan's scholarship
scheme, I was glad to share my personal experience. The discussion was lively and I
hope that students received a clearer picture of the application and selection process
when research scholarship applications involve. The presentation involved not only
general information about the application timeline but also daily life questions that
students were most curious about.
On the fourth day, we visited the exhibition of Kiki Smith "Humans and Other Animals" at
Dots Gallery with prof Volic and her students in the Painting Department. On the fifth
and last day of the programme, we met again with the vice dean for international
cooperation, prof Svetlana Volic and her 2nd-year students. The visit to the studios was
a nice opportunity to discuss art materials in general and Japanese paper in
particular. The use of specific materials is of primary importance in any given work of
art.
During our concluding meeting we discussed possibilities to further enhance
collaboration between our faculties through capacity-building cooperation projects.
On October 20, the Belgrade Bienniale or Oktobarski salon was opened and I enjoyed
several visits to galleries and exhibitions, as well as art interventions in Belgrade's public
space.
I would like to express my special thanks to prof Svetlana Volic, prof Jelena Todorović,
doc Stefan Tasić, senior TA Nataša Kokić and Ms. Andjela Russo, and many others who
made this a visit as fruitful as agreeable.