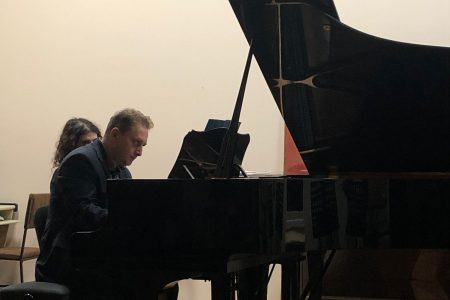 MY TEACHING EXPERIENCE IN BELGRADE: Omer Blentić, University of Sarajevo
12. January 2023
Omer Blentić
University of Sarajevo, Bosnia and Herzegovina
Erasmus+ Mobility for Teaching at:
University of Arts in Belgrade, Faculty of Music
Arriving at the University of Arts and the Faculty of Music in Belgrade, the first thing I encountered was a very friendly and professional administrative persons. Considering that this was my first exchange, I had many questions and ambiguities, but the administrative staff successfully resolved all of them. The lectures that I gave were intended primarily for piano and harpsichord students, but also for composers and musicologists, as they thematically touched on those areas.
The following topics were covered in the lectures: 1. Methodical, pedagogical and performing aspects of educational works for keyboard instruments in Spain and Italy in the 16th century; 2. Introduction to the issues of historical review and development of rhetorical figures and their implications in scientific theories of musical figures; 3. ANTONIO de CABEZÓN (1510 – 1566): Obras de música para tecla arpa y vihuela. Composiciones à dos parter para principiantes: Duos I-III ; (Reconstruction of certain elements of "interpretation composition" through practical presentation and workshop)";
I also gave a recital as part of mobility and hosting.
Meeting and working with students and colleagues was extremely creative, inspiring and useful. I am especially glad that I had the opportunity to introduce certain segments of my own interpretative, compositional and musicological research to the academic community. During mobility, I made new acquaintances that open up new professional opportunities for cooperation with the Academy of Arts in Belgrade and the Faculty of Music in Belgrade. In addition to mobility activities, I had the honor of visiting the cultural sights of Belgrade and attending a major musical event such as a recital by pianist Ivo Pogorelić.
Finally, I would like to thank the Academy of Arts and the Faculty of Music in Belgrade and thank a lot to the administrative persons for their friendliness and professionalism.