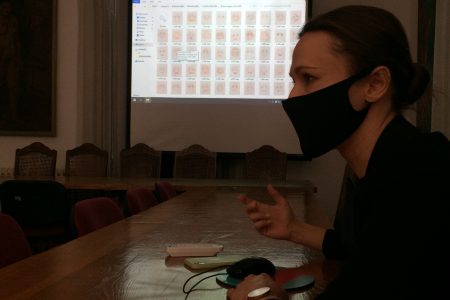 MY TEACHING MOBILITY IN BELGRADE: Borjana Mrđa, University of Banja Luka
15. April 2021
Borjana Mrđa
Erasmus+ Mobility for Teaching at:
University of Arts in Belgrade, Faculty of Fine Arts
The main motivation for participating in Erasmus+ program was the exchange of specific professional experiences with fellow professors/artists and students in the specific field of Painting subject and practice. My goal was to improve my own pedagogical practice and acquire new knowledge in my own field of art and pedagogical practice so that in the future I could contribute to changes at the institutional level within the teaching process of the Academy of Arts in Banja Luka.
What surprised me was the diversity, depth and richness of the exchange I had with the colleague professors and students in terms of specific professional information and their rich individual experiences within the professional artistic field. Also, we had correspondence of the outside cultural activities that we had the opportunity to argue about in terms of the cultural events that took place during my professional exchange. This complemented the institutional exchange in understanding a broader cultural context also.
Fellow professors were very helpful and willing to guide me through usual institutional routines so that we all get the maximum benefit from this exchange. I communicated with a large number of undergraduate, master's and doctoral students at the individual level and got a broad impression of the complexity and diversity of artistic practices taking place at the Faculty of Fine Arts in Belgrade. This experience gave me ideas on how to implement some new pedagogical approaches at my academic institution.
I have established new and strengthened already existing professional links at the Faculty of Fine Arts Belgrade which will influence on the development of different interinstitutional collaborations in the future.