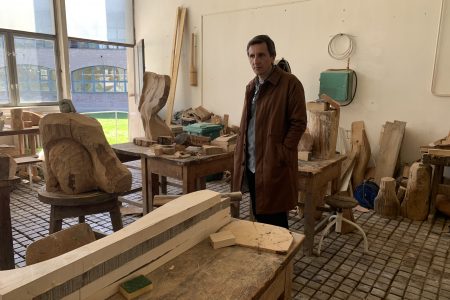 MY TEACHING MOBILITY IN BELGRADE: Marko Marković, University of Montenegro
27. April 2022
Marko Marković
University of Montenegro
Erasmus+ Mobility for Teaching at:
University of Arts in Belgrade, Faculty of Fine Arts
I stayed at the Faculty of Fine Arts (FLU), University of Arts in Belgrade in the framework of Erasmus+ mobility program of teaching staff from partner countries. This was the second step in cooperation between the FLU Belgrade and FLU Cetinje. The first step was the exchange of two students, Aleksandar Rakezic and Radisav Stijovic, in the beginning of summer semester of 2022. My mobility teaching period took place from 11th -15th of April 2022, and consisted of workshop, meetings and dialogs. On the first day of the visit, I meet with the head of international relations office of University of Arts in Belgrade, Jasmina Milovanovic and vice dean for international relations of FLU Jelena Todorovic. The next day a meeting was organized with dean of FLU Dimitrije Pecić and the management of the faculty. At these meetings we had the opportunity to personally discuss the possibilities of future common projects and student's exchange. Certain areas of intervention and opportunities were identified in the field of capacity building programs, organization of summer schools and joint exhibitions. The outcome of these meetings strongly suggest that cooperation will continue to be deepen and even better in the future.
The central activity of the visit was teaching a theoretical-practical workshop about painting and color to students of Painting department, which was realized in cooperation with the class of Prof. Milivoj Pavlovic. On the final day of the visit, I was a guest in the course of the Evening nude with prof. Svetlana Volic, the head of the Painting department. During these two visits I had a chance to see student works from all departments and meet the teaching staff for discussions about the outcomes of pedagogical process. In conversation with colleagues, we exchanged opinions by comparing teaching methods applied to two academies, which I consider to be precious. I would like to conclude that the FLU Belgrade has high pedagogical and artistic achievements.
As an interesting addition to my stay, It is especially important to highlight visits to the most important cultural institutions, where Museum of Yugoslavia, above all, stands out, as an attractive piece of modernistic architecture and for its historical and cultural heritage which valuable collection serves as an important archive for the research in the field of contemporary art.
In the end, I would like to mention the good reception that I received from all the professors, students and people from the international office. This experience for me was very beneficial from both pedagogical and cooperation point of view.