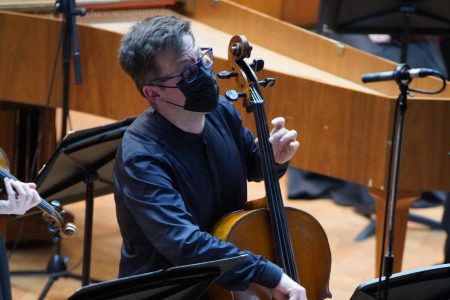 MY TEACHING MOBILITY IN BELGRADE: Tomasz Pokrzywinski, Karol Szymanowski Academy of Music in Katowice
2. June 2021
Erasmus+ Mobility for Teaching at:
University of Arts in Belgrade, Faculty of Music
I had the opportunity to visit Belgrade as a guest professor as well as a soloist within the frame of Erasmus+ Programme. The main focus of the visit was to work with students of the Faculty of Music in Belgrade and to share with them my knowledge and experience of the historically informed performance practice. It is worth mentioning, that in Serbia there is no possibility to study historical instruments within the formal structures of higher education, while in Poland almost every academy of music offers that option to its students and the Karol Szymanowski Music Academy in Katowice is active and successful in that field.
The students that attended my masterclasses were mostly students of chamber music in various ensembles (duettos, trios, string quartets, guitar quintet, clarinet quintet) as well as few students of viola who prepared transcriptions of Solo Cello Suites by J.S.Bach.
Although there was variety in the level of students, all of them showed interest and involvement and were open to the new ideas, responding well on the suggestions. Considering the fact that the Faculty of Music in Belgrade doesn't have an Early music department, my impression was that the students found the information presented to them very interesting. Clearly, interest in historically informed practice is present, as there was one ensemble (string players of the guitar quintet) that brought along historical bows. One student of viola also played Solo Suites of J.S. Bach with the historical bow.
With all of the students was possible to present certain ideas, and point them to a specific approach in the interpretation of the repertoire. Feedback from the students, as well as some of the teachers or colleagues who attended the lectures was very positive. During all lectures, we took maximum care and attention on health prevention due to COVID-19 situation.
Lectures:
24.04.2021 10:00 – 14:15
25.04.2021 10:00 – 13:30
26.04.2021 13:00 – 17:15
Number of classes: 14 Number of students: 32
During my stay in Belgrade, apart from the masterclasses at the Faculty of Music, I also took part in few concert activities in collaboration with different cultural institutions in Belgrade.
I was invited by my colleagues, professors of the Faculty of Music, and their ensemble Belgrade Baroque, to prepare a concert performance of 2 solo concertos of Vivaldi, as well as to join basso continuo for the rest of the programme. The concert "Vivaldi! trio sonate e concerti" took place on Sunday, 25.4.2021. at 19h in Studentski kulturni centar.
By invitation of the Symphony Orchestra Radio Television Serbia and their concertmaster and a fellow soloist, Katarina  Aleksić, on  4.2021.  in  Kolarac  Concert  Hall  at 19h, I  performed a Concerto for violin, cello and strings with b.c. RV544 by Antonio Vivaldi in the following setting: Solo violin: Katarina Aleksić
Solo violoncello : Tomasz Pokrzywiński Symphony orchestra RTS,
Conductor: Bojan Suđić
By the invitation of the concert series Evropa u Gostima 2021 / Europe, Be My Guest 2021 I performed a second concert of this concert series/festival, after being in Belgrade earlier this year in March, with Holland Baroque. This time, chamber music concert "Bečki klasici na Konaku" in Konak kneginje Ljubice, Belgrade City Museum, 28.4.2021. at 19h, ensemble "CIRCLE" played classical repertoire, trios and oboe quartet by Haydn, Mozart,
A very active stay in Belgrade, and exchange of knowledge, experiences and artistic ideas with few different cultural institutions, made the idea of mobility very successful.  I would like to point out that in times of pandemic, with all the restrictions in the mobility of artists that were introduced recently, especially between EU and non-EU countries, it is very important to show the willingness to find solutions, to work in safety, and to continue doing our jobs.
As a result of the mobility exchange, new connections have been established, plans for future projects and exchanges have been set, and my overall impressions are very positive. Due to the restrictions connected with the pandemic – the opportunities for interpersonal and social interactions were limited, but I think during work we managed to lay foundations for long-lasting relationships on professional and personal levels.     I would like to express special gratitude to the concert series Evropa u gostima 2021 for providing the possibility of frequent COVID-19 testing during the project.