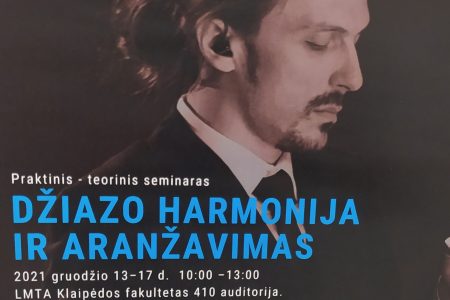 MY TEACHING MOBILITY IN LITHUANIA: Vladimir Nikolov, Faculty of Music
20. December 2021
Vladimir Nikolov
University of Arts in Belgrade, Faculty of Music
Erasmus+ Mobility for Teaching at:
Lithuanian Academy of Music and Theatre
In close contact and preparation with prof. Karolis Žioltikovas from Klaipeda, Lithuania I prepared a masterclass in jazz harmony and arranging, and material for a concert of the jazz ensemble of the students in Klaipeda that attend the jazz study programme. This was an immense success for both the students in Klaipeda, their teachers and me as a lecturer.
Starting from Monday 13.12, every day until Friday 17.12 starting from 10-13h I held lectures in jazz harmony and arranging to a group of around 20, including students from other music schools in the city. The first part of the lectures was focused on proposed information and examples, whilst the second part was focused on the application of the material being taught, by the students, mentored by myself.
After a lunch break, every day of the week we had ensemble rehearsals (15-18h) with a band of 8 members (trumpet, alto sax, tenor sax, trombone, guitar, bass, drums and vocals). I prepared the arrangements for the ensemble in advance, led the rehearsals, and also joined the band by playing piano in the ensemble.
On Thursday 16.12.2021 we had a concert with this material in Kurpiai jazz club in Klaipeda (Kurpių g. 1a), starting from 20h. After the one-hour concert, the students continued with a jam session. The jazz club was full of people and was a great success. Thanks to leader Karolis Žioltikovas it was also professionally promoted.
The connection with the students was clear to be positive starting from the first day. As I understood, the school in Klaipeda used to have a jazz department in the 1980s and they are currently in the process of revival after a long break, by supporting a new jazz study programme. My harmony and arranging program is something they didn't focus on so far, but had the need from even without this exchange happening. This means that our interests really "clicked", and my fear that the students would be unprepared and hardly communicative was proven wrong.
This exchange was really a two-way street. The students were extremely communicative, positive and open to suggestions. They asked questions for every detail and seemed very interested in all of the subjects being taught. I was astonished by their curiosity and interest in this, rather theoretical subject. They were aware of the need to cover all the aspects of arranging in their journey to being professional jazz musicians. I was truly honored to be of their help.