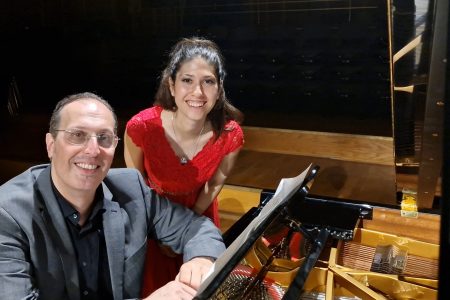 MY TRAINEESHIP IN FRANKFURT: Aleksandra Jovanović
9. August 2023
Aleksandra Jovanović
University of Arts in Belgrade, Faculty of Music
Erasmus+ Mobility for Traineeship at:
Hochschule für Musik und Darstellende Kunst Frankfurt am Main
For three months of the spring semester I had a fantastic opportunity to experience a student traineeship at the Voice Department of the University for Music and Performing Arts in Frankfurt am Main. I have arrived in Frankfurt am Main highly motivated to explore, learn and use everything a traineeship opportunity would have to offer and left with even more than I expected.
This University`s award-winning Voice Department has an impressive pool of professionals and an inspiring set of courses – the curriculum of the department of the university contains innovative specialized courses for different elements and phases of preparing the repertoire on one hand, but also courses that treat performance in a holistic way, often shared with other departments of performing arts – thus insisting on an interdisciplinary approach to performing. For example, special attention is given to understanding and reproducing general rules of phonetics, specific for and applied to sung reproduction in different languages frequently used in the repertoire for voice, on one hand; Understanding a singer`s instrument in a holistic sense is tackled on the other side, on a unique set of courses lead by motologist, Prof. Ulf Henrik Göhle, on which students go through individual assessment and group sessions focused on body awareness and physical training. It was a pleasure to see how the curriculum of this department equips students with highly relevant competencies, such as analysis and problem-solving skills, effective planning and managing of repertoire preparation, adaptability to different interpretative demands in the artistic environment, as well as mapping and mastering challenging point in repertoire preparation, creative approach to perfecting of the repertoire – all of which I find highly relevant to voice/stage performance, methodic of singing and methodic of vocal pedagogy.
In that light, having the opportunity to work with Professor Michelle Breedt, whom I admire both as a superb and giving artist, as well as a meticulous and creative thinker on singing and vocal technique, was especially important for me. In addition to the impressive and long-lasting career she has built, she is also known as an exquisite voice pedagogue, who approaches the voice and the singing instrument thoroughly and innovatively, and each session and discussion with her has opened new perspectives for me, directing me to explore further on my own. Aside from discussing the methods she uses, I got to see and analyze how her pedagogical approach functions in practice, both in her individual and class lessons, which as a result offers a deepening student's knowledge of vocal technique and a better understanding of his/her own instrument. Especially personally and artistically enriching experience for me was to be surrounded by and to study German lied in that amount – throughout this period, with the kind help and direction of many professionals I managed to discover wonderful repertoire, previously unknown to me, or discover new layers in the one I already knew. It has even inspired me to revisit the recital programs I have been "keeping in a drawer" and to perform them in two concerts.
This three-month intensive work on building up the knowledge, skills and competencies, as well as the opening of new perspectives that this university offers, has enriched the existing knowledge, skills and competencies I had, and put them in different contexts, which has significantly influenced me as an artist, contributed to what I can offer as a pedagogue and had a strong impact on the shaping of my Ph.D. art project at the Faculty of Music. Having said that – given that there is always more to explore and each topic can be approached in even greater depth, I sincerely hope that there will be further Erasmus+ Project mobility opportunities for knowledge and experience exchange in this area.