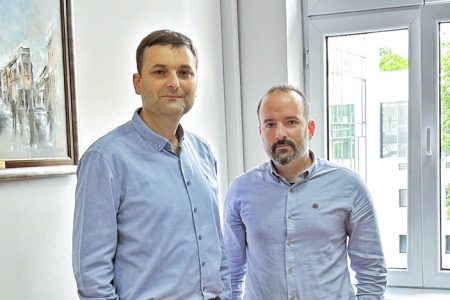 MY TRAINING MOBILITY IN BANJA LUKA: Petar Zorić
21. July 2023
Petar Zorić
University of Arts, Rectorate
Erasmus+ Mobility for Training at:
University of Banja Luka
Mobility at University of Banja Luka (realised in period 8-12 May 2023) made it possible for me to become better acquainted with the organizational structure, procedures and people in the decision-making process of the host institution. Also to get familiarized with  the regulations and procedures established at the University of Banja Luka. Thanks to my host Djordje Markez MA, Secretary General, I was introduced with the practice and experience of the organization and work of the professional services of the University of Banja Luka in order to apply good practice in improving the functioning and work of the professional services of the University of Arts in Belgrade. This experience was very interesting to me because University of Banja Luka is an integrated university with more professional services and faculties in its composition compared to the University of Arts. Moreover, the proposed mobility would develop my personal and professional skills, through the exchange of good practices with colleagues and from a different institution.
Thanks to the hospitality of my host I have gotten better acquainted with our partner institution, its organizational structure. Djordje Markez presents to me different aspects of his everyday duties but challenges and problems as well. That was a great opportunity to compare legal solutions in Serbia and Bosnia and Herzegovina, as well as the practical implementation of regulations and practices at our Universities. He introduced me to Vice-Rector for Teaching and Student Issues professor Strain Posavljak PhD, Vice-Rector for International and Interuniversity Cooperation professor Milica Balaban PhD, Vanja Aleksić Head of Legal Affairs, Personnel and Administrative Department and with other lawyers employed at University of Banja Luka.
During the mobility I visited buildings owned by the University of Banja Luka and met many teachers and colleagues. I spend a lot of time at Academy of Arts, where I met Dean professor Dragana Purković-Macan, PhD, Vice-dean for academic affairs  Mario Ćulum, MA, Vice-dean for art and international cooperation Borjana Mrđa, PhD and Manager of legal affairs sector Dijana Šukalo. That was an opportunity to discuss good practices, experiences and further cooperation between University of Arts and Academy of Arts.
I hope that the result of this mobility will be in strengthening the academic cooperation between the University of Arts in Belgrade and University of Banja Luka. I would like to express my deepest gratitude to my colleagues at University of Banja Luka and Academy of Arts for their hospitality.