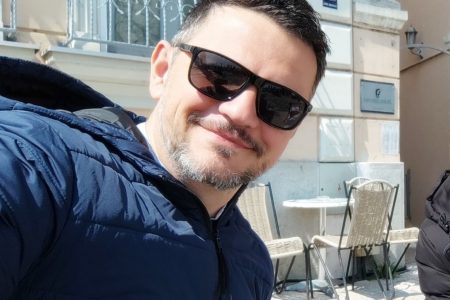 MY TRAINING MOBILITY IN BELGRADE: Adnan Rahimić, University of Sarajevo
27. April 2022
Adnan Rahimić
University of Sarajevo, Bosnia and Herzegovina
Erasmus+ Mobility for Training at:
University of Arts in Belgrade, International Relations Office
Considering the importance of connecting between central International Offices, I have joined my colleagues at the University of Arts in Belgrade for five-day training mobility. During this period, I was welcomed and hosted by the head of the International Office, who organised my plan and schedules of visits, meetings and cultural sights. I got the opportunity to learn more about the university, its history, organisation and Erasmus experience.
Along with the central office, I had a chance to meet with the Faculty of Fine Arts and the Faculty of Music representatives. I was surprised to learn about already established cooperation with UNSA's fine arts and music academies that dated several decades back. We have discussed options for collaboration and recognised EU funds as the best option to apply for joint projects and mobilities.
Belgrade and Sarajevo are very similar and connected in culture, education, and language, so being hosted felt like being a family surrounding. I am looking forward to returning this favour soon and impacting future mobilities.