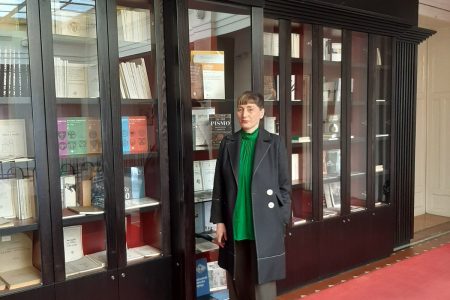 MY TRAINING MOBILITY IN BELGRADE: Nataša Marković, University of Montengro
27. April 2022
Nataša Marković
University of Montenegro
Erasmus+ Mobility for Training at:
University of Arts in Belgrade, Faculty of Music
When I received the information that the Erasmus program is available to those who work at the university and that there is a possibility of acquiring new knowledge, I decided to apply. My primary goal was to enrich all my knowledge on the printers of others from the region. I am interested in the organization of work at the University of Belgrade, and thus, by comparing the organization of the University of Arts in Belgrade and the Organization of the Work of the Music Academy of UCG, I can see some useful innovations in their work!
These few days that I spent in Belgrade completely justified my expectations. First I visited the University of Arts and then the Faculty of Music. I am thrilled with the same, especially with the University building and its location. I got the opportunity to compare the work of two universities, which was one of my goals, although the study programs are similar, there are many differences. I met a wonderful colleague, Ivana Mijanović, coordinator for international cooperation, who tried to make my stay as beautiful and fruitful as possible. I must thank my colleagues from the student service of the Music Academy Saška and Cici who were maximally cooperative. I also want to thank Anđela Russo, who is the first person I met at the University of Arts, she is the same dear, direct person ready for help and cooperation.
This was my first business trip of this type because administrative workers don't travel much. It greatly influenced me to enrich my knowledge with some other experiences and apply certain segments in our country. I would state from my experience that administrative workers should be given more chances to improve and exchange knowledge and their future applications.
Since I was a child, Belgrade has been one of the most beautiful cities in the world, which I confirmed this time by walking in my free time and exploring the city again.
In conclusion, it was a wonderful experience where I met wonderful colleagues and got the opportunity to learn many new things and reciprocate something. I will take only fond memories of this Erasmus trip.