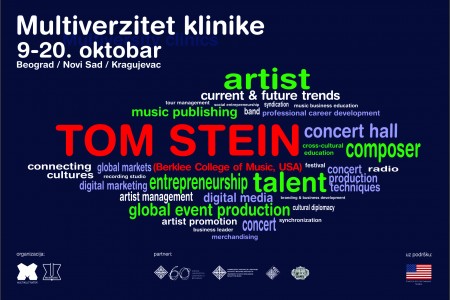 Prof. Tom Stein (Berklee College of Music) at the University of Arts
9. October 2017
Tom Stein, a professor at the Berklee College of Music (Boston USA), visited the University of Arts in Belgrade on 9 October 2017. In addition to the meeting with the rector Prof. Zoran Erić and the vice-rectors Prof. Mirjana Nikolić, Prof. Mileta Prodanović and Prof. Rastko Ćirić, Prof. Stein held a panel discussion with vice-deans and associates of our faculties on the subject of Art in the Contemporary Liberal Market: Current and Future Trends.
Professor Stein is a professional in the field of music, media, culture and entertainment industry, with many years of experience in building intercultural connections through music, multimedia content and innovative technologies.
Panel discussion in the Rectorate of the University of Arts is the first activity of Professor Stein within his two-week visit to Serbia. In a series of lectures, workshops and seminars that will be held during his stay in Serbia, he will also present contemporary trends in digital marketing and promotion of artists on social networks, talking about preparations for the career development of young artists, concert production, music business, management and entrepreneurship in culture and art.
Professor Tom Stein is in Serbiaais a Fulbright scholar in the framework of the platform for non-formal music education Multiversity, organised by the non-governmental organisation "Multikultivator" under the auspices of the US Embassy in Belgrade.
For more information please visit:
http://multikultivator.org.rs/multiverzitet/multiverzitet-klinike-muzicka-i-industrija-medija-i-zabave/