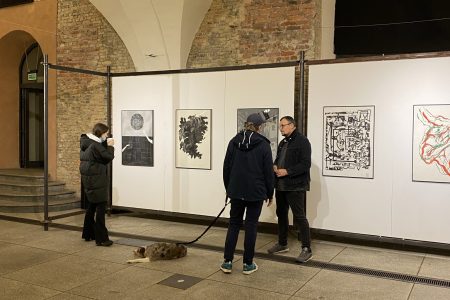 Intertwinings and Interactions ∞∞∞∞ Exhibition at the Academy of Fine Arts in Gdańsk
19. October 2021
The exhibition Intertwinings and Interactions opened on 8 October 2021 for three weeks run in the Gallery of the Academy of Fine Arts in Gdańsk, Poland.
The jointly prepared programme presents works on paper by students of four faculties/academies of fine arts – those in Gdańsk, Wrocław, Vilnius, and Belgrade. The exhibition, which will be held in each of these cities, aims to promote the work of outstanding students – young artists and provide insight into the similarities and differences between the curricula of these four renowned institutions of higher education.
The Faculty of Fine Arts of the University of Arts in Belgrade is represented by students of different departments, from first-year to master's students, most of whom are recipients of Faculty awards for their drawings and prints in the academic year 2020-21. Students' varied poetic approaches to these media, as well as the wide range of materials in which these works have been produced, show that they have been created in an atmosphere of openness and sensitivity to the spirit of the times, an atmosphere that has always distinguished the Faculty of Fine Arts in Belgrade.
The exhibition grew out of the Erasmus+ KA103 project, which enabled mobility of students and staff among Gdańsk, Wrocław, Vilnius and Belgrade; and was supported by the Ministry of Culture of the Republic of Serbia.
The next stop of this travelling exhibition programme is Wroclaw (15-30 January 2022), following Vilnius (10-22 February 2022) and finally Belgrade  (1-15 April 2022).