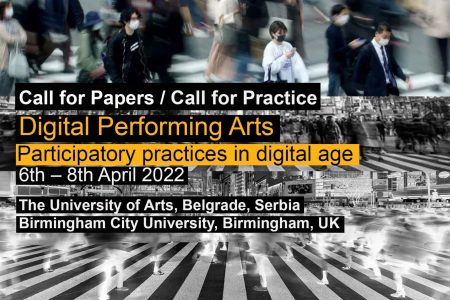 Call for Papers / Call for Practice – Digital Performing Arts Participatory practices in digital age – 6th -8th April 2022
12. February 2022
Hybrid International Conference (live and online) hosted by the University of Arts, Belgrade, in collaboration with Centre for Interdisciplinary Performative Arts (CIPA), Birmingham City University, U.K.
Conference Curators: Prof. Ivan Pravdic and Prof. Aleksandar Dundjerovic
The challenges of recent years have brought about significant changes to performing arts practice, education, and research. The particularly creative industry was affected by the C19 pandemic, with theatre and other public venues internationally being closed for most of 2020-21. The shifts in collective consciousness regarding the environmental, ethical, and cultural change, inclusivity ecolonization, diversity, and technological innovation have grown new ways of thinking, making performance and shifting to online production.
The conference aims to examine the developments and investigate digital performing arts in the present moment working collectively and collaboratively. Scholars and practitioners across the board of interdisciplinary performing arts are invited to contribute with their submissions that will challenge and provoke the debate in connection to one or more suggested topics/themes.
The Deadline for Submission is the 21st of March 2022, 1200 GMT.
For the submission and all-conference information, follow the link:
https://www.arts.bg.ac.rs/en/dpa-conference/ 
Further information can be obtained on FB page and YouTube during the conference.