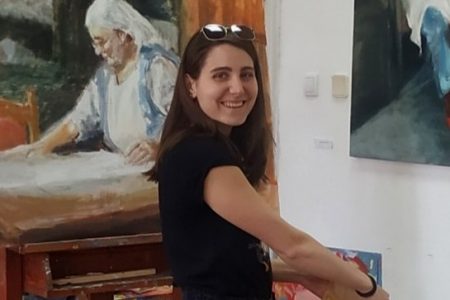 MY STUDENT MOBILITY IN BANJA LUKA: Bojana Pavlović, Faculty of Fine Arts
2. March 2021
Bojana Pavlović
University of Arts in Belgrade, Faculty of Fine Arts
Erasmus+ Mobility for Studies at:
My participation in student mobility between the Faculty of fine art, University of art in Belgrade and Academy of art in Banja Luka, from the beginning of November 2020. to the beginning of March 2021. Winter semester in the duration of four months I was at the Academy of art, on the course of painting in class of professor Borjana Mrđa.
My initial wishes and expectations, which were mostly fulfilled, were only partially connected to advanced training and finding personal artistic expression. They were mostly based on developing independence, coping with a new place and among new people and also getting to know the city, its environment.
I believe that a student of art must be open to changes and different experiences, as well to be ready to constantly learn through different life opportunities and experiences. Time among students from Banja Luka Academy enable me to experience and learn a lot. I attended lectures and exercises in five subjects and among three different student groups. The most significant for my professional upgrade were the subjects Photography and Theory of Film because it was the first time to came in contact with those subjects from an academy standpoint. I learned to use the analog camera, the technique of painting icons on wood and the connection of different aspects of art through theory understanding.
Academy is comprising fine art, music and drama departments. Exercises are being held in the same building for all three courses and I could hear violin or piano while I painted in our rooms. Campus complex is center of whole Banja Luka University with few of faculties, big park with old trees and benches, with student canteen, dormitories, sports Hall, restaurant and cafe. Not far away is a city park, aqua park, shopping mall and downtown or city center. With regard that this part of the city is on a quite flat ground bicycle is an ideal means of transportation. The whole life rhythm of student life in Banja Luka is significantly different from student life in Belgrade. It's slower and with more free time, more relaxed, closer interrelationships among students and professors, but also that produces a peculiar lack of ambition and fighting spirit.
My personal art expression during mobility could be characterized as experimental. I had an idea to produce small series of paintings different from everything I have done before and to try some new methods in work. Conditions for work were very favorable, thanks to big classrooms and a small number of students.
With regard to the kindship of the two countries, I didn't feel almost any difference in mentality or customs. I have full support and help, from the coordinator from my main institution, the coordinator from Banja Luka Academy, but also from professors, assistants and students. Regardless of these epidemiology measurements because of Covid-19, my time in Banja Luka passed without difficulties or efforts.