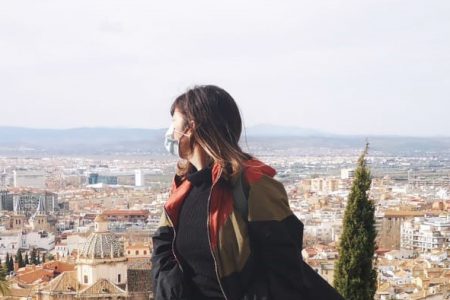 MY STUDENT MOBILITY IN GRANADA: Isidora Vulić, Faculty of Applied Arts
12. February 2021
Isidora Vulić



University of Arts in Belgrade, Faculty of Applied Arts
Erasmus+ Mobility for Studies at:
There is nothing in life like the sadness of being blind in Granada.
Francisco de Icaza
No matter how many times the Arab vendors of cluttered souvenir shops in Granada repeat this quote on magnets, cups, notebooks, pens, pillows and scarves, it will never seize to be true. Generations of artists from Shakespeare and Matisse up until today speak of the same warmth of red stone and terracotta ornaments of the Alhambra, fragrant and doleful, steep and narrow streets of the old Arab quarter, Albaicyn and of almost forever frozen Sierra Nevada that watches over every dusty, red-tiled balcony and inevitable 'kettle' green eaves.
The morning begins late in Granada: it is only at 10 AM that people get going to work, to grab bread, or coffee, or breakfast on the plaza. At 2 PM it is already time for siesta: that famous Spanish mid-day rest, perfect for a nap after lunch and a little bit of free time, because after that, the long and illuminated evening starts, followed by a glass of vine, a hearty dinner, and another glass of vine, and then like that on and on, day by day, only changing the city viewpoint, colors of the emerging sunset and the repertoire of the always preset guitarist, or maybe a violinist. However, there is a small problem: how can one be a responsible student in that city-museum with such beauty, cheap wine and chatty locals?
In order to justify my burden-free and relaxed life and inner peace I had in Granada, I will say that the complete experience for me was one huge heap of inspiration. I believe that all the colors, shapes, ornaments and arabesques that I saw, will end up on a drawing, an illustration, or a calligraphy piece. A precious and rich collection of sun-bathed and dry landscapes, rain-washed brick rooftops and ornamented oriental window frames and trees of ripe oranges, together with homemade tomato pasta of one of my roommates and Moroccan coffee of the other, make up what I own now as a personal corpus of inspiration and references for future artistic work.
As an art student, I value this method of learning through absorbing the atmosphere and the world around me.
As a student from provincial Serbia, an encounter at first with Spanish, and after with cultures of all the people I met, I cherish this important lesson in cosmopolitan education, building tolerance and empathy.
As languages enthusiast and non-stop talker, I can say that a chance to speak 4 languages every day was precious, a bit complicated and above all unique. It taught that indeed you can learn a language in 4 months.
As a person, this experience stays with me forever.