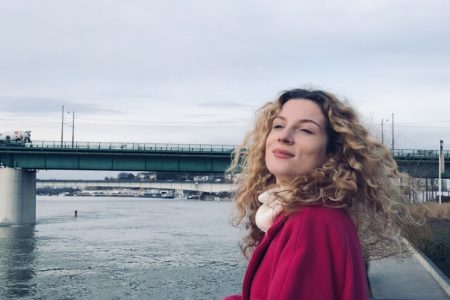 MY STUDENT MOBILITY IN BELGRADE: Amila Džebo
21. July 2023
Amila Džebo
University of Sarajevo, Academy of Music
Erasmus+ Mobility for Studies at:
University of Arts, Faculty of Music
As someone who has never left home for a long period of time I felt fear before my departure to Belgrade, but over time that fear turned into the most beautiful experience of my life. The time spent at the Faculty of Music offered me a lot of new knowledge, skills and new friendships that I hope will continue in the future. I am especially happy that I had the opportunity to listen courses that my home University does not offer, but are part of my personal interests. The professors I had the opportunity to work with showed consideration and patience for all my questions during the previous semester.
Also, as someone who is involved in various fields of art such as music, acting and dance, I am very fortunate to have had the opportunity to enjoy various exhibitions, plays and concerts in Belgrade. Those experiences broadened my horizons and helped me in my personal development and growth, and I am very grateful for that.
Contacts I made during my exchange in Belgrade are very valuable to me in my professional and private life. I am honored I had the opportunity to meet so many young, creative and smart people with whom I could share my ideas and interests. I would recommend to all students, if they have the opportunity, to apply for a student exchange in Belgrade. I am sure that this priceless experience will remain in their fond memories forever, and that it will offer them many new skills and friendships, just like it did to me.