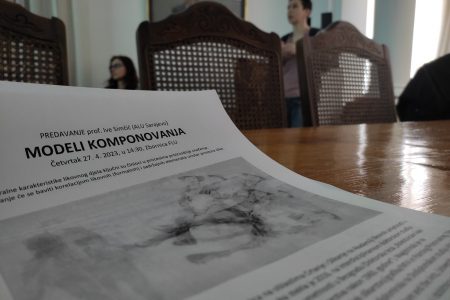 TEACHING INTERACTIONS: Iva Simčić
21. July 2023
Iva simčić
University of Sarajevo, Bosnia and Herzegovina
Erasmus+ Mobility for Teaching at:
University of Arts in Belgrade, Faculty of Fine Arts
My Erasmus + Teaching Mobility at the University of Arts in Belgrade was arranged to take place at the Faculty of Fine Arts (Painting and Sculpture Departments) during the last week of April (April 24-28).
Prof. Svetlana Volic, the Head of the Painting Department and the Vice Dean for the International Relations was my host for the duration of the stay. She kindly introduced me to her fellow colleagues and all of her students, and made sure that my stay at the Faculty of Fine Arts is pleasant and productive.
I was invited to participate in prof Volic's freshmen Figure Drawing class on Tuesday, April 25 where we jointly conducted individual consultations and critiques. Our input and elaborate comments  were very informative for the freshmen students who, in turn and to the best of their abilities  tried to articulate their ideas and processes and  present their inspirations. Students were also very keen to clearly verbalize certain difficulties that may have risen at some point in  in the course of their studies.
During my mobility period two (2) different lectures were planned: the first one, titled Collage,  that thematized a specific paradigm shift that was introduced in the realm of visual arts  with the historic  appearance of collage, was conducted on Wednesday, April  26th  from 2:30 – 4:00 PM, at  the Sculpture Department studio building (Senjak location, Bulevar Vojvode Putnika 68). The second, titled  The Models of Composition, was conducted on Thursday, April 27th from 2:30 – 4:00 PM at the main building (Pariska 16). Both lectures were well attended and  students  showed  interest for  the ideas presented. I was honored that several faculty members attended both of my lectures.
I was invited by the Assistant `Professor Dunja Trutin, who was my host and guide during the previous mobility term, to return to Sculpture Department studio building and conduct individual consultation with junior sculpture students on Friday, April 28. The attending students presented their drawings, and sculpture projects and  elaborated on their ideas.
I was also  invited by Marija Zdravković,  TA at the Painting Department to visit the Painting and Printmaking Departments (at Topčider) where I was greeted by prof Adam Pantić, Vice Dean for Finances. They kindly showed me all painting and printmaking  studios, where I have enjoyed brief interactions with the undergraduate and graduate  students present.