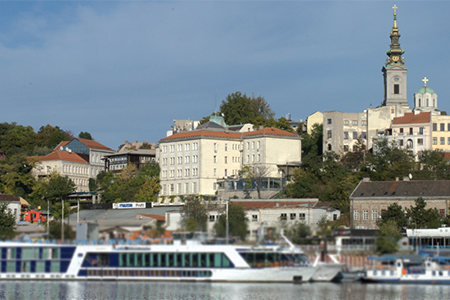 Kick-off meeting of the Project DEMUSIS
20. February 2019

Kick-off meeting of the Erasmus+ CBHE Project
Enhancing the digital competencies and entrepreneurship skills of academic musicians in Serbia for culturally more engaged society – DEMUSIS
The kick-off meeting of the Erasmus+Capacity building in the field of higher education project  Enhancing the digital competencies and entrepreneurship skills of academic musicians in Serbia for culturally more engaged society – DEMUSIS will be held from Thursday February 21st to Friday, February 22nd 2019 at the University of Arts in Belgrade, Kosančićev venac 29.
As a special event, on Thursday February 21st in the Great Hall of the Faculty of Music, Kralja Milana 50, at 8 p.m., the first concert in Serbia using LoLa equipment for distance playing will take place.
Students of the Faculty of Music in Belgrade and Music Conservatory "Giuseppe Tartini" from Trieste (Italy) will play together. The concert will be live streamed via Conservatorio "G.Tartini" YouTube channel.