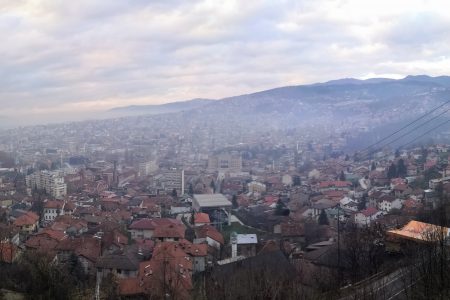 MY TEACHING MOBILITY IN SARAJEVO: Gordana Matijević Nedeljković, Faculty of Music
2. December 2021
Gordana Matijević Nedeljković
University of Arts in Belgrade, Faculty of Music
Erasmus+ Mobility for Teaching at
My stay at the Academy of Music in Sarajevo from November 22nd to November 26th, 2021, was my first experience with the ERASMUS+ Mobility Program. My impressions are very positive, both when it comes to the work conducted, and the lasting connections that have been forged.
Violin classes are individual, one on one sessions; however, apart from the students and accompanying pianists, other students and some violin professors attended my sessions as well. Our communication was exceptional, free-flowing, and what is most important, we completely understood one another on every level. While each participant's open and positive approach made for a relaxed and easygoing atmosphere, this did not diminish the seriousness or studiousness of the work taking place. The program included pieces with varied technical and stylistic requirements, many issues were covered, and progress was evident.
The building that houses the Academy of Music is also home to a music school. At the request of the school's principal, I had the chance to listen to their younger students as well and to work with their two best violin students, who are currently in high school and are getting ready for their studies at the Academy of Music.
It is my opinion that everyone I was in contact with for this occasion was very glad to have the opportunity to exchange experiences and opinions. There is a wish from all parties for our cooperation to continue beyond this ERASMUS+ program. I would especially like to emphasize the enthusiasm and dedication of professor YeonJu Jeong, who, despite her other obligations, was a tremendous host and an excellent organizer, always present, very interested and with many ideas on how to motivate young people and improve their musical lives.
My positive takeaway from this trip is only added onto thanks to the affability and kindness of the people of Sarajevo, the delicious Bosnian cuisine, the gorgeous natural surroundings, and the city's many landmarks, a lasting legacy of Sarajevo's long and eventful history.