Edited collection of themed essays: "Digital Performing Arts Participatory – Practices In A Digital Age"
1st Edition
Digital Performing Arts
Participatory Practices In A Digital Age
Edited by Aleksandar Dundjerović & Ivan Pravdić                                  
ISBN 978-86-7167-064-7
346 Pages 70 B/W Illustrations
Published April 26, 2023 by University of Arts in Belgrade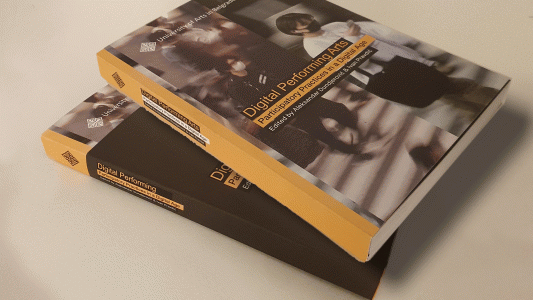 Description
Since 1957, when it was founded as an association of four art Faculties – Faculty of Music, Faculty of Fine Arts, Faculty of Applied Arts and Faculty of Dramatic Arts, the University of Arts has been a space where traditional and innovative educational practices in the field of art are successfully combined. With the ex­ception of the classic forms of teaching – lectures, exercises and practical work, the University of Arts strongly insists on interactive and project-based teaching, organizing masterclasses, symposiums and conferences as spaces for the ex­change of knowledge, experience and artistic practices.
Guided by these commitments, the University of Arts was the initiator and or­ganizer of the International Conference Digital Performing Arts – Participatory Practices in a Digital Age in a hybrid form, from April 6th to 8th 2022. The main aim of the conference was to gather significant foreign and domestic profession­als from the field of performing arts, creative industries, digital media and art in general. It attracted a lot of attention not only because of the topic and innovative concept but also because of the circumstances related to the Covid-19 pandemic.
The University of Arts hosted the project, but the credit for its realization be­longs to colleagues Professor Aleksandar Dundjerovic PhD from the Royal Birmingham Conservatoire and Professor D.A. Ivan Pravdic from the Academy of Arts in Novi Sad, who enthusiastically led the whole project. And they didn't stop there. Summarizing the quality of the discussions and debates, the decision was made to prepare a publication with the works of the conference participants, in order to ensure wider availability of the most modern theoretical consider­ations in the field of performing and digital performing arts. The papers se­lected for the edited book Digital Performing Arts – Participatory Practices in Digital Age came out of an international conference that brought together 40 participants, researchers and practitioners from various disciplines and differ­ent countries to explore interdisciplinary research practice in performing arts. Colleagues as editors and our University are very proud to be involved in sup­porting the cutting-edge global discussion on new developments in performing arts: from post-pandemic digital performing arts and politics as represented in digital media using performance as a communication tool, to practice research in interdisciplinary performance education and the embodiment of the physi­cal, intermedial and virtual in creative processes.
Building on earlier research in the IFTR Interdisciplinary Performative Pedagogies working group, this book focuses more on performance digital prac­tices in the 21st century. It does not attempt to categorize or historicize digital performance practice. Still, it offers a comprehensive mapping of different ap­plicability of digital performance and performance in the digital age within this interdisciplinary field. The edited book aims to examine the developments of research methodologies and investigate other forms of practices within digital performing arts in the present moment, where artists are working individually and collectively. Scholars and practitioners across the board of interdisciplinary performing arts are challenging and provoking the debate about participatory practice within the scope of digital media culture.
Table of Contents
Intoduction: Digital performing arts between academic and artistic context
Mirjana Nikolić
War as a digital media performance in a post-truth era
Aleksandar Dundjerović
Hashtag #battleofUkraine
Marija Barna Lipkovski
Digital Solutions to Applied Theatre in Response to the COVID-19 Pandemic
Persephone Sextou
Zoom, Camera, Action – The Creation of Action Choreography for Online Theatre using Isolated Actors
Lizzie Conrad Hughes
Interactive Digital Live Art from China
Bill Aitchison
Gamifi cation in Art – The implementation of elements of video games in works of art by the method of augmented reality
Miljan Stevanović, Jelena Pejić & Petar Pejić
EnterActive in Re:Public – Digital and Live Sphere of Mass Time Design
Ivan Pravdić
Kilometre in Cyberspace – performativity of appropriating land-art and conceptual artworks into 21st century Internet art practices
Sonja R. Jankov
Jewellery Multiplicity – Digital Architectures
Maria Jose Martinez Sanchez
We Reap What We Sow – Eco-Somatics, Embodiment and Urban Allotment Gardening. Part II: spring – late summer. February – August
Polly Hudson
Participatory Femininst Performance Practices in Digital Age – A Critical View on Digitalization Approach, or What Cannot Be Replaced Regarding the Public Space and the Presence: The Case of the 'Mis(s)placed Women?' Project (2009-2022)
Tanja Ostojić
Homo Arbiter Formae – Decision – maker and Brainworker
Venelin Iliev Shurelov
Björk's Biophilia in the light of the performing arts – A step toward a new paradigm
Uroš Z. Đurković
The Fluid Context of Performing the Digital: "NON FINITO – Performings of Spatial Narratives"
Svetlana Volic
Aerodynamics – multimedia performance
Ljubinka Stojanović
Editors Biography
Dr Aleksandar Dundjerović is a Full Professor of Performing Arts, a theatre director, an author, and an Associate Director of Research at the Royal Birmingham Conservatoire.
Dr Ivan Pravdić is a Full Professor of Theater dramaturgy, Radio dramaturgy, Performance dramaturgy, Dramaturgy and Games, Video game dramaturgy, Poetics of Polymedia Arts, Creation of Polymedia Artwork, Digital Performance and Time Design at the Arts Academy in Novi Sad (undergraduate, Master and Doctoral studies) and at the Interdisciplinary Postgraduate Studies department of University of Arts in Belgrade.