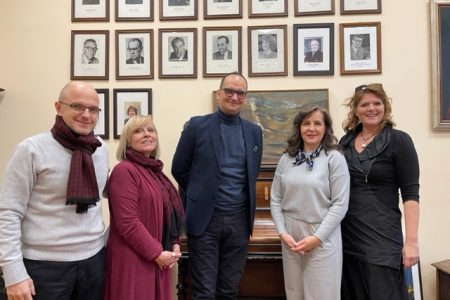 MUSICAL COLLABORATIONS: Tatjana Krkeljić and Bojan Martinović
21. јула 2023
Tatjana Krkeljić and Bojan Martinović
University of Montenegro, Academy of Music
Erasmus+ Mobility for Training at:
University of Arts, Faculty of Music
This mobility was a great opportunity to gain experience in international cooperation and to strengthen their capacities, but also to produce high-quality innovative deliverables. FMU Beograd is our partner from the very beginning of Music academy UCG and we find strengthening cooperation with prestigious institution very important for us.
During our visit to the Faculty of Music Belgrade, we met with the esteemed dean and vice-deans and their colleagues from menagment. On that occasion, we established the dynamics of further cooperation through joint artistic and scientific projects, as well as models of how to make this type of cooperation sustainable beyond these important projects like Erasmus +. The Music Academy Cetinje (UCG) is constantly working to improve study programs and curriculum, and this visit was a perfect opportunity to exchange thoughts with colleagues on all the challenges that accompany music education in the modern age. Also, we met with colleagues from different departments, and the experience of colleagues from the theory department and colleagues from the composition department were especially important to us. The Academy of Music is preparing the "renewal" of the Composition study program, and in such a process, the experience and competence of those who have had notable results in it for decades mean a lot.
In addition to the meetings with the dean's collegium and colleagues from different departments, we also value the meetings we had with colleagues musicians and pedagogues who work in professional orchestras in Belgrade, music schools, television, radio and as freelancers. In this way, we gained a partial insight into how the "economy" and the "labor market" work when we talk about professionals who obtain diplomas of musical performers, pedagogues, and theoreticians.
During our stay,  we have great  opportunity to hear several great concerts in different productions. On this occasion we highlight concert that was organized in production on FMU Beograd on December 14th , 2022 in Kolarac hall, in honor of Prof. Darinka Matić Marović, who was also our esteemed Professor Emeritus.
It is immensely important our connection with all relevant institutions in the region, because as a small academy we have a much better chance to succeed in a team rather than as individuals. Music academy of University of Montenegro aims to modernize its curriculum, artistic and pedagogical programs, working to achieve better recognition in the European higher education area. All knowledge acquired at the meeting will make our teachers and students a better position to further improve in terms of adopting new practices, spreading the network within the academic and teaching communities, and the continuation of cooperation. Our main goal is long-term cooperation with all institutions in the EU which recognize us as partners in common projects.
Last but not least, the preparation for coming to Belgrade was facilitated by the excellent support we had from the office for international cooperation, for which we would like to thank them on this occasion.