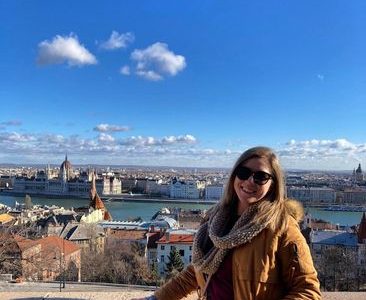 MY STUDENT MOBILITY IN BUDAPEST: Jelena Tutić, Faculty of Music
3. марта 2022
Jelena Tutić
University of Arts in Belgrade, Faculty of Music
Erasmus+ Mobility for Studies at:
Having the opportunity to participate in the Erasmus+ exchange program changed my perception of life. Not having travelled much before the exchange, I had no insight into how life and studies work in different environments. Sure, I have listened to different student experiences, seen and read their testimonials, but hearing about it and living it are two completely separate things.
My exchange journey started accidentally when, after seeing the open call for students I told myself "Why not just try to apply". One thing led to another, and after a few months of the election period, I finally received an e-mail saying "You are accepted for Erasmus+ student mobility!". The opportunity to study at Liszt Ferenc Academy of Music in Budapest, Hungary was one of the most amazing, if not the most amazing, experiences in my life. Not only did I have a chance to study at one of the most beautiful Music Academies in Europe, but I could also gain precious experience and knowledge from renowned professors in the field of harp performance. The study conditions provided to their students, rooms, buildings, available harps for practice, were just one big bonus. In the said conditions, the only thing I could do was work and strive to achieve new goals and improve my overall playing, which I like to believe I succeeded to do. The courses I attended offered the chance to regularly play in concerts, so I also had a chance to add two concerts to my concert list.
Living in one of the greatest European cities, which also cherishes and nurtures its classical music tradition, presented me with an opportunity to embrace and listen to some amazing concerts, attend a master-class with one of the best harpists of today, Catrin Finch, and also be a part of their musical scene by performing with a professional orchestra in one of the most renowned music halls in Budapest, Müpa.
However, the most wonderful memories I have are about all the people I've met there. Budapest was full of foreign students, and I've met some truly amazing people from all around the world – Israel, Italy, India, USA, China, etc. The talks led with these people were eye-opening for me. Hearing about their everyday life, often disturbed with some not so pretty political and other life issues, made me realize how little I knew about the outside world and how much I learned from my new friends.
If I ever get a chance to travel to somewhere like this, or to even apply for Erasmus+ exchange, I will do it! It was a completely life-changing adventure that will remain with me forever.