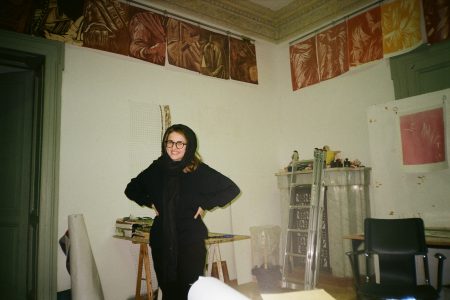 MY STUDENT MOBILITY IN KRAKOW: Aleksandra Kovačević, Faculty of Fine Arts
3. марта 2022
Aleksandra Kovačević
University of Arts in Belgrade, Faculty of Fine Arts
Erasmus+ Mobility for Studies at:
Jan Matejko Academy of Fine Arts in Krakow, Poland
My Erasmus exchange was conducted in Krakow, Poland, at the Jan Matejko Academy of Fine Arts. During this period of 4,5 months, I was signed in the department of Painting, though I was able to choose many different courses from other departments – Graphics, Intermedia, Sculpture, etc. That allowed me to meet people with a very different point of view, with various approaches to art and opposite preferences. All that helped me to expand my point of view, knowledge and also contributed to my own self-awareness of where my art belongs, and also made my own preferences in art more clear and steady. Discussions both with professors and students were much useful and creative in terms of art but also in terms of learning how to talk about, listen and understand the huge diversity of art nowadays.
A multicultural environment played a very important role in my stay in Krakow. I was surrounded by people from different countries – Poland, Finland, Spain, Israel, Austria, Germany, India, Azerbaijan. Besides learning about art, we made beautiful friendships which made me "fall in love" with cultural differences, and also question and evaluate my own culture, as part of this world. Between each other, we shared our thoughts, impressions, preferences, which made me see things with new and fresh eyes. A very interesting point of view arose from comparing my own country with Poland, due to similarities in history and respect between these countries. One thing I praise a lot is polish poetry. The outstanding beauty of a clear mind guided by the heart.
An opportunity to travel is something that can't be left out here. I traveled both with friends and alone. As Jews culture and history are broadly rooted in Poland, it was inevitable to explore the old part of Krakow – Kazimierz, Jews museum, Museum of WWII in Gdańsk, Auschwitz, and Birkenau. In a few words, it was an admonishing experience. The north of the country was also an astonishing place to visit – beaches of Baltic covered with snow, Gdanjsk – a place of historical anticommunism movement, and Hel – very north, remoted part for endless walks. In between, I visited Wroclaw, Ogodieniec – castle, Nowa Huta… The unexpected surprise was the opportunity to spend 10 days in Finland, where I visited my Erasmus colleague for Christmas time. The very north, calmness of this country and their cohabitant way of living with nature brought a special kind of peace for me.
To summarise in short, heartfelt friendships and broad horizons are the most precious things to get from this Erasmus program. Consequently, it was also very exciting to see how all of this is shaping my artistic expression.