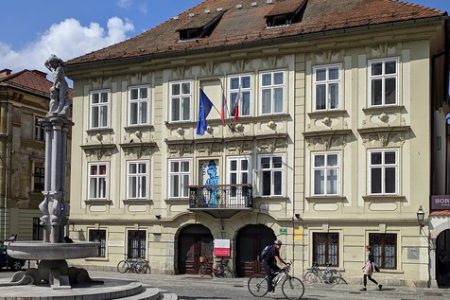 MY STUDENT MOBILITY IN LJUBLJANA: Korana Čiča Potkonjak
21. фебруара 2023
Korana Čiča Potkonjak
University of Arts in Belgrade, Faculty of Music
Erasmus+ Mobility for Studies at:
Academy of Music, University of Ljubljana, Slovenia
I've spent the winter semester studying harp at the University of Ljubljana – Academy of Music, Slovenia. Ljubljana is definitely smaller then my birth town, Belgrade and it was easier for me to get used to function there. Also, since it is a smaller city and everything was in my area, I did not need to spend a lot of time in public transport and I had more time for other obligations.
My main goals were achieving artistic and pedagogical excellence and developing my potential while performing on stage especially in concerts because they are an important and inseparable part of the teaching and learning process. Harp professor Mojca Zlobko Vajgl is one of the kindest persons I have met and she is excellent pedagogue and harpist with many years of experience in teaching harp students. She gave me a lot of advice, both for my technical improvements and musical expression. For the first time in my life, while playing chamber music, I've got in touch with contemporary composition of Slovenian composer which gave me an insight into the Slovenian contemporary music.
In December I had the opportunity to play at the internal harp class in the Tria Lorenz hall at the Academy of Music, as well as at the New Year's concert of harp students at the Galerija Atelje and I also had a chamber music concert with flutist Anica Mićić in Marijana Lipovška hall on Academy of Music.
By changing the whole environment, I've met a lot of new talented and inspiring people who are also studying music in Ljubljana and who aren't only from Slovenia. We went to a lot of concerts of Slovenska filharmonija, but also, we went on each other's concerts and shared impressions on our performances even we don't play same instruments – it is always a good thing to hear other people's opinions.
Honestly, it was one of best experiences I've had in my life and I truly recommend everybody to apply for Erasmus + mobility.