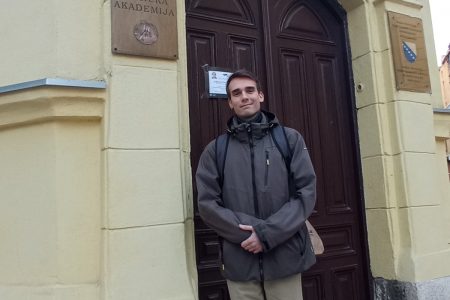 MY STUDENT MOBILITY IN SARAJEVO: Mihajlo Miletić, Faculty of Music
3. марта 2022
Mihajlo Miletić

University of Arts in Belgrade, Faculty of Music
Erasmus+ Mobility for Studies at:
University of Sarajevo, Bosnia in Herzegovina
I spent four months on student mobility at Music Academy in Sarajevo from October 4, 2021, to February 3, 2022.
Upon my arrival at the Sarajevo music academy, I was warmly welcomed by my conducting professor Dario Vučić and other students and associates in his class. Sarajevo Music Academy is smaller than the Faculty of Music in Belgrade but it has a warm and pleasant ambience. Working conditions in the academy are good and classrooms are well equipped. The pianos on whom I got to practice were very well preserved instruments.
In the first week of mobility, I had an opportunity to attend orchestra rehearsals for a gala concert that marked 100 years of Sarajevo national theatre. The orchestra was led by Dario Vučić and Ivo Lipanović with special guest singers Željko Lučić and Mikheil Sheshaberidze. I also attended rehearsals for the opera The Bartered Bride by Smetana which premiered in November and for operetta Little Floramye by Tijardović which premiered in February. On these rehearsals, I gained insight into the working process behind an opera production and also learned a lot about working with singers. In conducting, score reading and repetition classes we studied mainly opera music with professor Vučić – two acts of opera La Boheme by Puccini and Don Giovanni by Mozart. We had an excellent working atmosphere in the class and enjoyed working together with our collaborative pianists Sonja Radojković and Fuad Šetić. I also improved my piano playing thanks to my piano professor Dragan Opančić, who patiently worked with me on piano technique. I must say that all professors and assistants whose lectures I attended are truly devoted to their profession and their students with whom they always initiate discussions.
I was fortunate to find accommodation a few minutes away from Music Academy and Baščaršija street. As my accommodation was in the city centre, I enjoyed every day the unique architecture of Sarajevo, which is a blend of a well preserved Oriental and Austro-Hungarian architecture. Bosnia is a country of very kind and warm-hearted people who were very pleasing to me. It is important to mention how many good colleagues I have met at the academy. Students at the academy are talented and promising young musicians, mostly from Bosnia and Croatia. They received me well and made my stay in Sarajevo very pleasant. I enjoyed talking and discussing with them. Some of them became close friends of mine.
I am very grateful for having this opportunity to study in Sarajevo. It was a valuable experience from every point of view. I owe thanks to the Erasmus team at the University of Arts in Belgrade for making this mobility possible and to coordinators and professors at Sarajevo Music Academy for their kindness and hospitality. For everyone who wishes to have a similar studying experience, I would highly recommend applying for the Erasmus student exchange program.