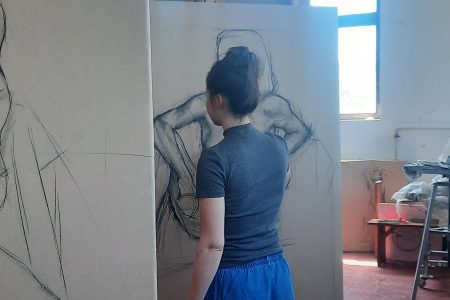 MY TEACHING MOBILITY IN BELGRADE: Iva Simčić, University of Sarajevo
24. маја 2022
Iva Simčić
University of Sarajevo, Bosnia and Herzegovina
Erasmus+ Mobility for Training at:
University of Arts in Belgrade, Faculty of Fine Arts
My Erasmus Plus Teaching Mobility visit to Belgrade was scheduled to take place during the second week of May  2022 (May 9– 13 ). It was planned that I visit the Painting Department at the Faculty of Fine Arts in Belgrade, conduct two (2) different lectures and work with students. Prof. Svetlana Volic, the Head of the Painting Department, kindly offered that my lectures take place during her Figure Drawing class attended by sophomore students of the four departments: Painting, Printmaking, Sculpture and Multimedia. Each lecture was planned to happen during the first third of the class (which is scheduled twice a week,  Monday and Friday 2:30 – 18:00 p.m. at the Senjak location, Sculpture Department studio building, Bulevar Vojvode Putnika 68), followed by individual teacher-student consultations. The two lectures proposed were  The Forms of  Composition and Foreshortening  – Juxtaposition of Masses.
Upon my arrival at the Sculpture studios building at Senjak, I was greeted by Assistant Professor Dunja Trutin, who was my guide for the duration of the stay as well as my technical support. She kindly offered her assistance if any need arises. Prof. Trutin introduced me to undergraduate and graduate students present at the time in their art studios. Due to the specific COVID 19 related circumstances and the official recommendation still in effect, the number of originally planned lectures (2) was reduced to one (1)  and students divided into two (2) groups each to attend the lecture on a separate occasion: sculpture and multimedia students on Monday, painting and printmaking students on Friday. Both sessions were organized in the teacher's room at the Senjak building, as this was the only space equipped with a computer and a slide projector. The lecture presented was titled The Forms of Composition.
On Monday  (May 9), the lecture for the first group of students was conducted.  It was attended mostly by the Sculpture department sophomore students who showed much interest in the presented ideas. Our interaction continued during the second part of the class as the students individually presented their drawings and elaborated on their ideas. On Thursday, May 12,  Prof. Trutin scheduled a time for students to present their work and have individual student-teacher consultations.  Nataša Kokić, TA from the Painting Department, kindly showed me all the painting studios located in the Senjak's Multimedia building, where I have enjoyed brief interactions with the undergraduate and graduate students present. On Friday, May 13, the second lecture session started at 2:30 p.m. and was attended by several Painting Department sophomores. I was honored that Prof. Zoran Dimovski, one of the Painting Department faculty members, attended my lecture and wholeheartedly participated in the discussion that followed. After the lecture, Prof. Dimovski introduced me to his students working in their studio and presented their artwork.