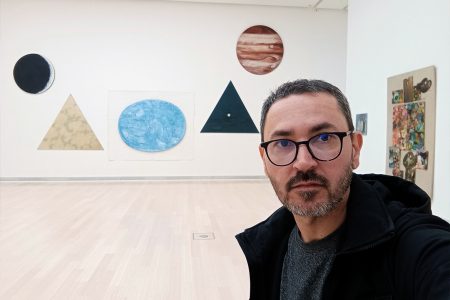 MY TEACHING MOBILITY IN BUDAPEST: Vladimir Milanović, Faculty of Fine Arts
21. јула 2023
Vladimir Milanović
University of Arts, Faculty of Fine Arts
Erasmus+ Mobility for Teaching at
Academy of Fine Arts in Budapest, Hungary
During my stay in Budapest as part of the mobility program, I visited Hungarian University of Fine Arts from April 24th till April 28th. My host at HUFA was Assistant Lecturer Bianka Dobo who presented the work of their printmaking workshops and introduced me to Graphic department curriculum. The structure of department and organization is similar to FFA Belgrade, they have workshops for linocut, intaglio, lithography and silkscreen, so we shared our experiences about specific studio practice in printmaking. During visit to classes I met Professor Peter Berentz and had opportunity to meet students while working on their projects so I got impression about their artistic approach to printmaking medium. Professor Janos Barta introduced me to teaching goals, tasks and pedagogical methods at HUFA. I also gave him information about our way of teaching and after productive conversation we both agreed that this exchange of information will contribute to the improvement of our teaching practice. After walk through faculty main building in the company of colleagues I visited auction exhibition that was organized as support for people of Ukraine. The exhibition brought together works of students and professors and presented various visual expressions that correspond with different generations.
Another important reason for my visit was the lecture I gave about digital printmaking and contemporary artistic approaches to printmaking medium. Since Graphic department of HUFA doesn't have courses in this field of printmaking I explained conceptual premises and creative potential of digital medium. I also presented my artistic portfolio with several projects based on digital collage to illustrate basic artistic ideas and poetical discourse of digital printmaking. The lecture was well attended and students asked very interesting questions.
One of the goals of my visit was to promote Printmaking department of Faculty of Fine Arts in Belgrade so I made presentation about our pedagogical practice and students artistic results. Professors and students from HUFA showed interest in cooperation projects and I suggested that we organize exhibition that will show the most representative achievement of student prints from both faculties.
During my stay in Budapest I enjoyed walking through city and visiting significant cultural landmarks, such as Buda castle palace – complex of Hungarian kings, Hero's Square with its iconic Millennium Monument, St. Stephen's Basilica, Gellért Hill with beautiful view on Danube and its bridges and the city panorama. I especially liked Museum of Fine Arts with its fascinating architecture and impressive collections of art from ancient times and old masters to modernity. I learned a lot about contemporary Hungarian art after visiting three exhibitions at Ludwig Museum: Everything Is up in the Clouds – an overview of András Lengyel, Art After The Shoah -cooperation project between Boris Lurie and Wolf Vostell and exhibition Time Machine – a selection from the collection of the Ludwig Museum representing key phenomena in contemporary art world and parallels in Hungarian artistic scene.
My visit to Budapest was a great pleasure, it contributed to my professional improvement and led to further development of cooperation between our two institutions.