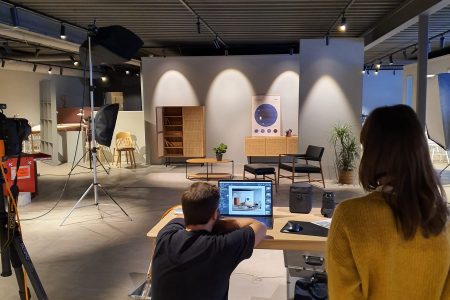 MY TRAINEESHIP IN SWEDEN: Irena Milović
9. фебруара 2022
Irena Milović
University of Arts in Belgrade, Faculty of Applied Arts
Erasmus+ Mobility for Traineeship at:
Global Furniture I Skene AB, Sweden
As a student of Interior and Furniture Design at the University of Arts, I pursued a traineeship programme at Global Furniture I Skene AB in Sweden.
Firstly, I'm thankful for this opportunity to both sides – faculty staff as well as Global Furniture. From the very beginning, I felt very welcomed by all the employees. Everyone was very kind and I felt safe knowing that I can lean on them 24/7. Companies CEO helped me find the apartment in the local area and the scholarship that I gained from the Erasmus + program covered it.
Secondly, by the time I arrived the company was going through a lot of changes, for e.g. they have renovated new offices and a showroom, they were starting a project of improving website and catalog, due to the pandemics, there were problems with the arrival of new products from Asia, etc…
That allowed me to explore and learn a lot through doing various projects, working with different groups of people and for the first time cooperating with people from other professions. Undoubtedly, this opportunity let me see where I am as a person, both professionally and personally, gain knowledge from the industry and see furniture from sellers and customers perspectives. I also felt ''thrown into the fire'' some times since CEO let me lead a few projects in which I needed to take responsibility and make decisions on my own.
One of the first creative assignments that I got during the first week, to sort of present myself, was the store window for the showroom. Since Halloween was near, that was the theme. In the end, I took photos and prepared them for their Instagram story.
The biggest project that I was working on are new photos, improving the website, and a catalog. In the first week of the internship, I did research on competition company's websites. In order to see where the company was standing at the moment while deriving conclusions which could be useful for the improvement of their own website. Later on, around the middle of the internship, I was responsible for developing ideas and accomplishing them with a local photographer. Working with the photographer enabled me to understand his strategy of work.
Work on improving website and catalog is still in the run in cooperation with a graphic designer from the Henningark company which is located in Stockholm. For that reason, I've spent three days in their office after I finished the Internship in Gothenburg in order to have more creative conversations with him.
In the meantime, I did the Outlet project. It started with store tours in a few cities, in order to see both the inspiration for the product presentation as well as gain knowledge about the competition in the industry. I did the interior project in Auto Cad and a presentation which they accepted, after that I worked on preparing it for 2-3 weeks along with other projects. Now it is waiting to be open in January.
My mentor was the company CEO, Henrik Karlsson. He followed everything I was doing, provided me with examples and documents needed for each assignment. Very professional and open from the first day. Furthermore, he let me enter a lot of meetings. There I showed my knowledge of production and furniture design. Whereas, I especially helped in communication between designers from around Europe and production which is in Asia. But of the most value were meetings with designers in person, I found out that my level of thinking is very near theirs and that made me feel much more comfortable about myself!
I had the opportunity to improve my language skills not only in the English language but in Swedish. I saw how one company works, which was one of the main reasons I wanted to do this Internship. I learned more about Swedish culture and enjoyed their beautiful nature.
Right now I can tell that my faculty prepared me very well for this Internship. I showed myself in a great light and I've got the job offer!
All in all, I enjoyed the atmosphere in the company and outside of it.