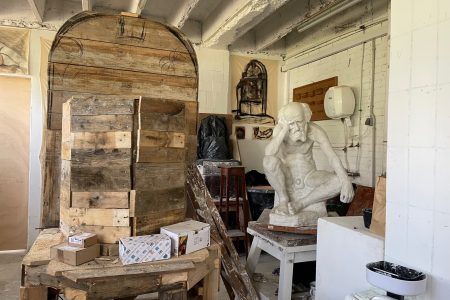 MY TRAINING MOBILITY IN ZAGREB – Dunja Trutin, Faculty of Fine Arts
21. јула 2023
Dunja Trutin
University of Arts, Faculty of Fine Arts
Erasmus+ Mobility for Training at
University of Zagreb, Croatia
My visit to Zagreb in April 2023 was my first Erasmus+ mobility experience, which is why I chose a regional partner as a receiving institution. Academy of Fine Arts in Zagreb is a well organised school with quite a few similarities in the program, but with a longer history and some significant differences, as well.
Before the mobility I was contacted by professor Igor Ruf, who is currently head of Sculpting Department and was assigned to host me during my stay. We had already agreed on the general course of the mobility, but we discussed the details further when we met on my first day, 17th of April. It was due to prof. Ruf's and his colleagues' hospitality and dedication that I was able to become well acquainted with the spaces, programs at AFA, the members of teaching staff and many cultural events in the city and make the most of those five working days.
For the most of my stay, I was spending time in the Sculpting Department, which is currently based in a temporary location in Dubrava. The Academy is using former Jadran Film studios, since the building in Ilica Street is being renovated after the earthquake in 2020. This non-ideal situation didn't prevent members of teaching staff and most of the students to hold and attend any classes. On my first two days, I got the pleasure of meeting prof. Tanja Vujasinović, Predrag Pavić, prof. Alem Korkut, prof. Vojin Hraste, prof. Ksenija Turčić, and professor Ruf introduced me to a number of students. We toured through the Department and I saw the stone workshop, as well as wood and metal workshops, and I also visited the Painting and Printmaking Department. I observed the teaching process in the sculpting workshops and discussed various aspects of work with my colleagues from AFA.
On Wednesday, I held a presentation on my artistic practice, as well as on the topic of Faculty of Fine Arts in Belgrade, focusing mostly on the Sculpting Department. After the presentation, some of the students stayed to participate in a short discussion and to inquire about possibilities for doctoral studies at our institution. I also got the opportunity to hear about students' individual art projects from 1st year to Master studies and to share my observations on their ideas, concepts and artistic methodologies. After a series of these conversations, I reached a conclusion that there are significant similarities in approach on our two institutions and that students in general are being encouraged to question their procedures and gradually develop their concepts using a wide range of media. Young people graduating from art academies in Zagreb and Belgrade are facing similar challenges, although in AFA some efforts are being made to prepare students for management of their artistic practice through elective courses (something that is still in stage of early consideration in Belgrade). Also, there are aspects of institutional, public representation which are highly developed in Zagreb though projects such as Cash and Carry – an annual event for general public during which the students can showcase their work, offer it for sale or gain other valuable experiences.
On the last day of my visit, I visited other AFA spaces with professor Igor Ruf – the Art Education Department and Art Conservation and Restoration Department at Jabukovac. I was introduced to several other colleagues who also welcomed me warmly and were kind to show me through all the workshops and explain details of their practice. I was amazed to see the wonderful working spaces and to hear about the quality of the program which allows for interdisciplinary authors to thrive during their study years, receiving wide knowledge in art theory.
My colleagues from Zagreb, prof. Ruf and prof. Pavić made efforts to introduce me to cultural life of Zagreb and organized a visit to Studios Žitnjak to attend an exhibition opening on my last evening in the city. The author of the exhibition was Gordan Bijelić, a conceptual artist, and the show was curated by Bojan Krištofić. Other exhibitions and art spaces I visited during my free time include Museum of Contemporary Art, Croatian Society of Visual Artists Pavilion (Brad Downey solo exhibition and another two current projects), "Živi atelje DK" with an exhibition of Serbian artist Srđan Veljović, Student Center Gallery and KIC – Cultural and Information Center. I attended an interesting lecture by professor Leonida Kovač in the same center.
The photographs testify to a fulfilling experience from Zagreb and document my visit to AFA and cultural events in the city. Immediately after my return to Belgrade, I continued my communication with colleagues from Zagreb, sharing information about the Summer School of University of Arts in Belgrade and starting a discussion on possibilities of future projects and teacher exchange programs.