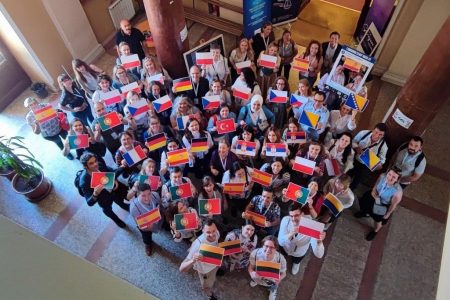 Staff Week in Sarajevo
27. маја 2022
Jasmina Milovanović
Angela Russo
Ivana Mijanović
University of Arts in Belgrade, International Relations Office
Erasmus+ Mobility for Training at:
University of Sarajevo, Bosnia and Herzegovina
In the period May 16-20 2022, we participated at  the 7th International Training Week organized by the  International Relations Office of the University of Sarajevo.  The Staff Week for foreign teaching and non-teaching staff hosted representatives of 27 higher education institutions coming from all over Europe. It was a five-day event that included seminars, workshops, meetings and social and cultural events as well.
On Monday, the first day of the Staff week, our hosts from the IRO UNSA presented the University of Sarajevo, numerous activities of their office and the overall internationalization program. That day was wrapped up with a guided tour across beautiful Sarajevo. On Tuesday, participants presented their institutions sharing information about their cultural, geographical and historical background, educational offers, Erasmus statistics and other relevant institutional information. On that occasion, Anđela Russo, Mobility Coordinator at the University of Arts in Belgrade, successfully presented the University of Arts, its unique study offer, various international activities, Erasmus statistics and ongoing projects. Furthermore, Jasmina Milovanović, Head of IRO at the UAB and Ivana Mijanović, Mobility Coordinator at the Faculty of Music visited the Music Academy University of Sarajevo and had a meeting with professor Ališer Sijari, dean and associate professor Amila Ramović, Vice Dean for International Relations. The meeting passed in a friendly and pleasant atmosphere when the future joint activities were agreed upon. On Wednesday, we visited "Džemal Bijedić" University in Mostar where we were warmly welcomed by Mirsada Behram, Head of the International relations office and her team members. On the fourth day, we visited the Olympic Museum, and listened to prof. Slavenko Likić and Slobodan Klačar from the Faculty of Sports and Physical Education lecture –  "Erasmus as new Olympics". Afterwards, we went to The Faculty of Catholic Theology and the Faculty of Islamic Sciences and enjoyed the beautiful interiors, and presentation of study programs and were introduced to the rich religious life of Sarajevo. Additionally, Jasmina Milovanović and Anđela Russo had successful meetings at the Faculty of Performing Arts with associate professor Faruk Lončarević, acting Dean at the Faculty of Performing the Arts University of Sarajevo and Arma Tanović Branković and with prof. Srđa Hrisafović, Vice Dean for International Relations at the Faculty of Fine Arts. On Friday, the last day of the Staff week, we summarized impressions and conclusions of the passed eventful days.
Warm hospitality, kind generosity and professionalism of prof. Enita Nakaš, Vice-Rector for International Relations of the University of Sarajevo, Jasna Bošnjović, Head of IRO and Adnan Rahimić, Mobility Coordinator, alongside delicious traditional Bosnian cuisine, stunning landmarks and friendly people made our mobility pleasant and memorable.