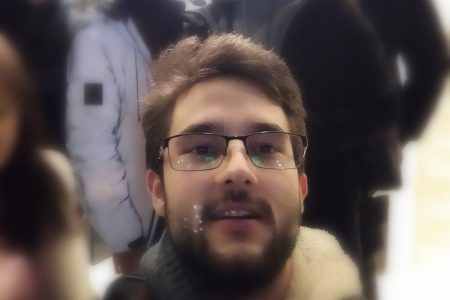 MY STUDENT MOBILITY IN BANJA LUKA: Timur Muratović, Faculty of Music
9. фебруара 2022
Timur Muratović



University of Arts in Belgrade, Faculty of Music
Erasmus+ Mobility for Studies at:
Narrative report for student Timur Muratović on mobility at the University of Banja Luka First of all, I want to thank the University of Arts Belgrade and the Erasmus + team for this wonderful opportunity and your support and help that you have given me. In this awkward time of the global Covid-19 virus pandemic, mobility has had its difficulties. I decided to come to Bosnia and Herzegovina a few weeks before the mobility itself began, for the process of self-isolation. After that, my mobility started, and I got in touch with the professors and the Erasmus coordinator at UNIBL. We agreed on the details of studying and I got a program that I need to prepare for the colloquia and finally for the exam.
It meant a lot to me that I got a program that I hadn't played before, which was quite challenging, and that alone was a great source of motivation for me. The professor who taught me was a visiting professor Nikola Srdić from the Academy in Novi Sad, and I was quite glad of that. I have a feeling that I also met the Banja Luka and Novi Sad clarinet schools. I also had auditions and regular contact with the local clarinet professor at UNiBL – Dejan Trkulja. I have to commend both professors for selflessly imparting knowledge to me and helping with all the elements of studying.
Through November and December, the epidemiological situation was quite bad, but it improved a lot during January and February, so the segments of life and study were easier. In November, on the occasion of marking the anniversary of "Crystal Night", I was with the Jewish Municipality of Sarajevo to hold an online concert without an audience with my colleague Ivan Perković (Master of Performing Arts – piano from the Sarajevo Music Academy) live stream via the "YouTube" platform.
Unfortunately, the epidemiological situation did not allow me to hold a larger number of concerts in BiH, but I managed to arrange three concerts for the month of March. I personally think that as a clarinetist and artist I have made a lot of progress and developed some new flexibility. The classes were extremely enjoyable and very useful. I heard some new ideas and views on music from a different angle.
I also developed new friendships with colleagues from Banja Luka, and they really accepted and hosted me very nicely. Colleagues are from different parts of Bosnia and Herzegovina and Serbia, and I have always felt unity and collegiality. Banja Luka is a beautiful city, and I enjoyed exploring the landmarks, architecture and nature in and around the city.
This mobility was one wonderful experience that I will appreciate. I gained experiences that I will remember for the rest of my life.