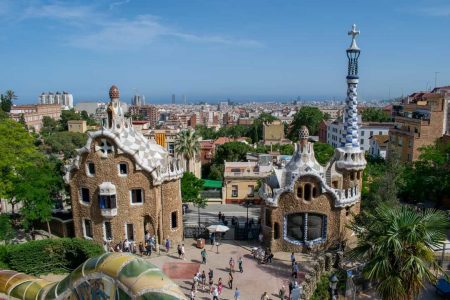 MY STUDENT MOBILITY IN BARCELONA: Sofija Stojanović, Faculty of Applied Arts
11. јула 2022
Sofija Stojanović
University of Arts in Belgrade, Faculty of Applied Arts
Erasmus+ Mobility for Studies at:
Academy of arts and design Pau Gargallo in Barcelona, Spain
My student exchange experience was out of this world. Barcelona is such a beautiful place to live. Everyone is so friendly and wants to help. There's only one little detail that you should know, the partner institution Escola D'Art pau Gargallo is not in Barcelona, it's located in a city next to Barcelona. It's still in the first zone of the metro and about half an hour away from Barcelona city centre. Badalona is a typical Mediterranean small city with a marina and much more convenient to live in because there are not that many tourists.
The school is well equipped and teachers are very eager to help. People usually speak Catalan in Badalona, since the whole area is in Catalonia and some of them know Spanish. There's no need to worry since everyone speaks English in the Barcelona centre.
There are a lot of places to visit in this historically rich city, such as the Park Güell, Casa Batlló, Casa Mila, the Sagrada Familia, the Hospital Sant Pau, the Tibidabo, the Parc de la Ciutadella, the Arc de Triomf, La Rambla… Many attractions are quite expensive, but there are a lot of state-owned museums that are free to visit on the first Sunday of the month and one day of the week, like the Picasso museum, the National Museum of art in Catalonia, the Palau Güell and others.
Barcelona is a big city with a lot of places to visit and have fun. I'm glad I got to meet so many people and some of them were also Erasmus+ students from other countries. This whole experience brought me a lot of beautiful memories and I had the opportunity to live the Mediterranean way of life.