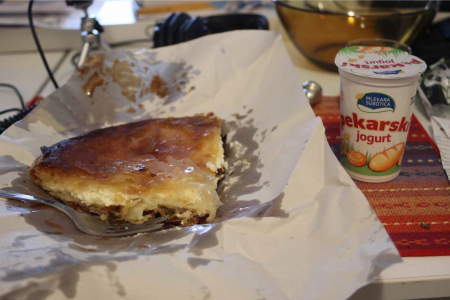 MY STUDENT MOBILITY IN BELGRADE: Jan Siman, Academy of Performing Arts in Bratislava
9. фебруара 2022
Erasmus+ Mobility for Studies at:
University of Arts in Belgrade, Faculty of Fine Arts
My Erasmus experience this time was definitely different than my previous one, mainly because of the ongoing pandemic situation.  Because of this, I was the only exchange student at the faculty of fine arts. Although I was in touch with other exchange students thanks to the ESN organization, It's not the same as having people of similar interests around you. On the other hand, I appreciate the opportunity of spending some time with those who study something completely different like political science or economics.  I think ESN did a great job of organizing events and activities that were always fun.  Lots of people kept telling me that I'm missing the nightlife in Belgrade due to COVID measures, but that is not something that bothers me. I actually do not really like clubs and loud parties where you cannot even talk to anyone.
I was quite surprised how everyone at school was super helpful and eager to assist with anything I needed. Every time I met someone new, they were also extremely generous, often paying for my beer or taxi (not that I wouldn't want to pay for myself, they just didn't let me). As a vegetarian, I must say that Serbia is definitely not a vegetarian-friendly country. In fact, my overall image of Serbian people is that they survive solely on meat, rakija and cigarettes. Maybe not the healthiest diet, but I could feel the unity and distinctness of Serbian culture on every corner.  And despite of majority of meals being made of meat, I managed to find my own gastronomic heaven in form of Burek sa sirom (I know it's not burek…haha) and other delicious pastries from bakeries which are literally everywhere.
I walked a lot. I tried to avoid public transport as much as possible. I did not have any particular reason for doing that, I just wanted to stay physically fit I guess. In addition, I believe that walking makes you relate to space in a much more profound way. One day I walked all the way to the other side of Novi Beograd and I really liked it there. It had a sense of openness. It also reminded me of Bratislava's Petržalka which is also situated on the other side of Danube, however with much fewer open spaces and less interesting architecture.
After spending all this time in Belgrade, I actually became more interested in the history of post-socialist countries. I didn't really expect that in the beginning.  I visited the museum of Yugoslavia, which had an exposition consisting of gifts, which Tito received from political leaders from all over the world. There was a lot of absurd stuff.  I also liked that they involved artists to create an interactive installation there.  I visited the museum of Nikola Tesla as well, but I must say that I expected more from that. I felt like it is too small for such a big name. Maybe I felt like that because we went there as a group.
I had a friend from Bosnia visiting me for two weeks, so we really tried to do as much stuff as possible. We went for example to Zemun, Ada Lake or Narodni Muzej, which, by the way, surprised me with a collection of famous 20th-century paintings. Although the original idea was that I would come to Sarajevo, it made more sense for her to come to Belgrade and also get a vaccine.
What's probably the worst part of any exchange stay is from my experience finding accommodation and dealing with bureaucratic nonsense. Dormitories would make it a lot easier. Saving a lot of hustle. Even though I managed to find an apartment in a perfect location, I later found out that the owner of my apartment could not register me at the police station, because he lives in Finland.  I really did not think that this could even happen, because from what I read, it is mandatory and not doing so is against the law and both the owner and the guest might be fined. Despite that, I really enjoyed my apartment because I had it all for myself, so I could play the guitar and make music without any worries. I am not going to describe the whole thing, as it really does not matter, now when I left the country without a visa or registration. I overstayed the allowed 90 day period for around 30 days. I already had a speech prepared at the borders about why I do not have a visa….but nobody asked.  At least it was a bit more adventurous this way.
Also, I was absolutely surprised when I discovered (15 minutes before departure of my bus and just after spending all my dinars) that I need to buy a token for 190din at the bus station to get to the platforms. I had to quickly run to the exchange office because they did not take cards or euros. And although I was at the station at least an hour before departure, I didn't notice any sign about that. Somebody could get disappointed, but for me, those memories of things going wrong are the best ones. It just makes me realize that I actually went somewhere else.
I could dig deeper and deeper to find a lot more great memories from Belgrade but that could just go on and on, so I will just conclude with a huge "Hvala!" to Belgrade and I will be looking forward to coming back someday to travel also to different parts of Serbia and other Balkan countries.