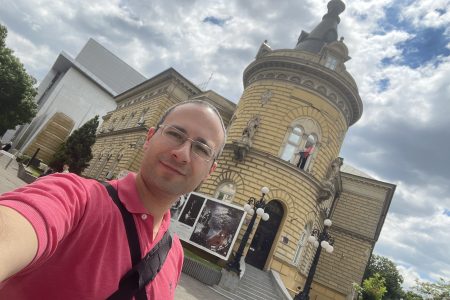 MY STUDENT MOBILITY IN BELGRADE: Nenad Đurđević, University of Banja Luka
9. фебруара 2022
Nenad Đurđević
University of Banja Luka, Bosnia and Herzegovina
Erasmus+ Mobility for Studies at:
University of Arts in Belgrade, Faculty of Music
At the very beginning of my impressions, as I spent four months on a student exchange in Belgrade, I would like to thank the Erasmus+ team of the University of Banja Luka, which enabled me to achieve my student mobility, as well as the team of the University of Arts in Belgrade. which kindly welcomed me and was available for all of my questions at any time.
My exchange lasted a total of four months in the summer semester, from February 22 to June 21, 2021. Upon arrival in Belgrade at the Faculty of Music, I got in touch with the co-coordinator and all the professors whose subjects I chose to listen to. Since the Faculty of Music Arts had very interesting courses in the list of subjects, it was a bit difficult to decide and fit in 30 ECTS credits, as needed for one semester, and there were a total of 35 ECTS credits on my list. My choice of subjects was Piano, Chamber Music, Methodology of Piano Teaching, Concert Practice, Pedagogical Research of Learning the History of Music in Primary School, Analysis of Musical Styles, Music Recording Technology and Comparative Organ.
From that list, I would especially like to single out the learning of a new instrument – the organ. Although it is a keyboard instrument, which is not unknown to me, the technique of playing differs from that on the piano. Also, establishing coordination between the three manuals and the keyboard, as well as navigating with a large number of buttons to change the registers was certainly the biggest challenge for this time spent in Belgrade. Personally, I think that getting acquainted with the instrument for which J. S. Bach wrote so many masterpieces was very useful, both for my professional and artistic development as well for the methodological approach in pedagogical terms. Considering that in this period the epidemiological situation caused by Covid-19 virus was still very unfavorable, group classes at the Faculty of Music took place "at a distance", while individual, practical classes were held at the Faculty, but with mandatory adherence to the recommended measures. However, despite such a way of working where you do not have the opportunity to meet your colleagues, I was lucky to meet a few of them, hang out nicely, and exchange student experiences.
I think something like that is very important when you find yourself in a new environment. Belgrade is a very beautiful city, characterized by its historical content and geographical position, it exudes a blend of different cultures. In that sense, it was a real pleasure to take a break from practicing instruments and learning to visit and explore the sights of the city, architecture, nature. Of the cultural events I attended in Belgrade, I would like to single out concerts of classical music at Kolarac Hall. Although there were far fewer concerts and guest artists during this period, I would especially like to single out the concert of pianist Nikolai Lugansky and cellist Pavel Gomzijakov, whose performance left a great impression on me.
I will remember this student exchange for the rest of my life as a wonderful experience and I warmly recommend to my younger colleagues to apply and be part of the Erasmus+ student mobility program.