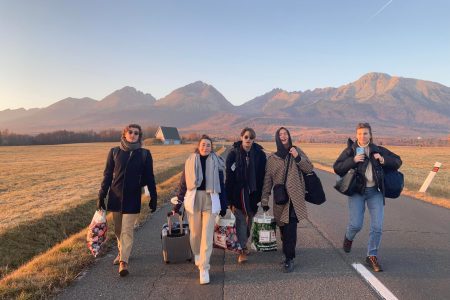 MY STUDENT MOBILITY IN BRATISLAVA: Marija Mijušković, Faculty of Dramatic Arts
3. марта 2022
Marija Mijušković

University of Arts in Belgrade, Faculty of Dramatic Arts
Erasmus+ Mobility for Studies at:
Academy of Performing Arts in Bratislava, Slovakia
My name is Marija Mijušković. I'm an Erasmus student from Belgrade, Serbia, and I just finished the winter semester at the Academy of Performing Arts in Bratislava – Film and TV Faculty.  
Overall I found the course to be very well-balanced. It was a nice mix of theory and practical work that touched upon some of the most important areas of film. Here's a briefing on each of the subjects. 
History of Slovak Cinema was the only subject we had online, but despite that, I thought it was a very nice general introduction to the Czechoslovak film. Every week we would watch a couple of assigned films and then discuss them in class. I imagine it would've been even better in person, but I thought that it was still a great overview of the topic.  
A practical introduction to Non-fiction cinema was the only subject that matched my curriculum in Belgrade and I'm very happy to have had the chance to be Marek's student. He's a very out-of-the-box character and a professional with a lot of practical experience. It was truly a pleasure to have him as a teacher and I know other students feel the same way.  
Film Editing was a beautiful continuation of my course in Belgrade. I had this subject last year, and although quite thorough, it was strictly theoretical. That's why I found Alex's assignments to be very useful. For our final project, we had to edit a short film in the editing software of our choosing and that made all the difference. It was my first time doing something like this and I was really happy to finally apply that theoretical knowledge.  
The Subject of Art and the Artist in Film and Documentary and the Study of Visual Language through Painting were perhaps my favourite classes. I'm a big fan of art history and studying it in the context of film was an extremely helpful experience. It made me consider certain aspects of the film that I hadn't before and I particularly liked that we were encouraged to explore the topics we had discussed in class by creating our visual projects. Truly a pleasure!  
The Phenomenon of Film Sound was very similar to the subject I had in Belgrade. We were all really looking forward to recreating the sound design scenes from a couple of films we suggested, but unfortunately, we never got around to doing that as the lockdown started. Still, it was a nice introduction to the subject for those who knew nothing about it.  
Scriptwriting is something I would like to pursue later on for my master's degree. At first, I was sceptical about the fact that we had it only every other week, but it actually turned out to be the perfect structure for the tasks we were given. I liked that each exercise had a different objective and that we were forced to use a variety of writing devices. It was also quite useful having to read and review other students' works.  
Martina Frajštáková, the professor of the Basics of Animation Film was a delight! She's warm, helpful, and approachable, and I enjoyed her method of teaching. I have never done anything animation-related and this subject really was the perfect glimpse into this profession. I never knew how difficult and tiring it was. 
Basics of animation in interactive space – just as with the previous subject, I had never worked in Blender before. Marian tried really hard to make the software more accessible to us, but there's only so much you can learn in 6 lessons. However, I'm really glad I got to learn something about this aspect of animation too! 
In addition to the academic aspect, my stay in Bratislava was truly a privilege after a year of Covid-induced hibernation. I was fortunate to be in a rather large group of Erasmus students. It was really useful to compare our universities and courses and understand how our profession works in different countries. We bonded over those four months and I'm sure we'll stay in touch after this experience. Another wonderful thing about Bratislava is that it's so close to other European cities. A couple of classmates and I would often organize trips to Vienna, Prague and Budapest, and we even got to sneak in a hiking trip to the High Tatras.  
I feel indescribably grateful to have had such a wonderful international experience and I would love to have stayed for another semester, but unfortunately, my school's curriculum is quite different so I would not be able to graduate in time with my class back home.  
I really hope I'll get to see some, if not all, the people who made this experience so great for me again.  
Thank you so much for everything and best wishes,  
Marija