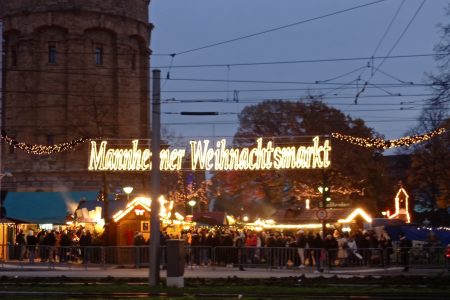 MY STUDENT MOBILITY IN MANHEIM: Tijana Mačužić
21. јула 2023
Tijana Mačužić
University of Arts in Belgrade, Faculty of Music
Erasmus+ mobility for Studies at:
Staatliche Hochschule für Musik und Darstellende Kunst Mannheim, Germany
From the 4th of October 2022 until the 31st of January 2023, I was on student mobility at the Staatliche Hochschule für Musik und Darstellende Kunst in Mannheim, Germany.
The opportunity of studying at a well-respected University, the famous Mannheim school of playing, learning from highly esteemed professors, and listening to astounding concerts, was a lifetime experience and an exciting next step in developing my career.
The Staatliche Hochschule in Mannheim has two buildings. In both of them, students can reserve a room online, ten days in advance. The rooms are in fantastic condition for practicing. The new building also has the Cafeteria and the Mensa, so the only thing students can do is to work and strive to achieve their goals and improve their playing.
Working with the Flute Professor, Jean-Michel Tanguy, a famous flutist, known for his cordial beauty of the color of the sound and the refined style, who first of all is a very kind and good person, who has so much experience, knowledge and who was playing with some of the best flutists, it was a valuable opportunity to get knowledge, to grow as a professional flutist and an artist. Some of the classes were the Piccolo flute lessons with Professor Birgit Engelhardt, who plays in the German Radio Philharmonic.
Also, I was playing in the wind quintet, which has always been my wish. I  had a few concerts, solo and in the orchestra, where I had a chance to play a delightful solo as the first flute. One of the concerts was with the famous harpsichord player Miklós Spányi. It was inspiring to play baroque music with the harpsichord for the first time in the Palaise Prinz Carl in Heidelberg. I had a lovely experience traveling to other cities in Germany. For example, in Berlin, where I was listening to the Berlin Philharmonic orchestra. The solo flute of this Philaharmonic is Emmanuel Pahud, the best flute player in the world. So I had the opportunity to meet him, talk with him and get to know how everything works.
Many foreign people live in Mannheim, and because of that, it was an excellent time to get to know firsthand other cultural and social environments, make friends with musicians from around the world, and deepen my foreign language abilities.
Being a part of the Erasmus student mobility was a life-changing, eye-opening adventure that gave me the knowledge and confidence to become who I strive to be, and make lifelong friendships, along the way. The Erasmus program is already famous for the opportunities it brings to students. After experiencing it firsthand, I can also, wholeheartedly recommend it.