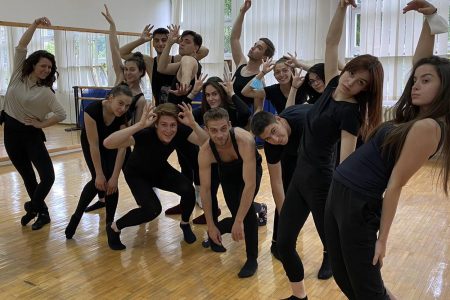 MY TEACHING MOBILITY IN BANJA LUKA: Anka Kostić, Faculty of Dramatic Arts
9. фебруара 2022
Anka Kostić



University of Arts in Belgrade, Faculty of Dramatic Arts
Erasmus+ Mobility for Teaching at:
Taking part in the mobility programme at the Academy of Arts in Banja Luka was a new professional challenge for me, which contributed to the deepening of my teaching but also further enriched my life experience. The main goal of my visit was to transfer knowledge from the field of theatre dance during a five-day intensive class schedule.
I was surprised by such a warm welcome and the effort that fellow professor Bijelić put in to make my stay as pleasant and fulfilling as possible. In addition, the great credit for the excellent realization of the programme went to the students, who accepted the new lectures with great enthusiasm and made a huge effort to follow very intensive four-hour dance lectures every day. With great joy and energy, they worked on improving dance technique, learning demanding choreographies and engaging in parts of classes that included improvisations and creation of individual tasks on a particular subject. I was very proud that students managed to exceed their limits, taking into consideration that the programme was realized in the period of preparation of all final exams, which are very demanding circumstances for them.
My fellow professor Snežana Bijelić has a strong background in spheres of sports, gymnastics and dance, while my main competencies are acting, classical ballet and jazz. It was interesting and challenging at the same time to acknowledge the differences and similarities in approaching the same subjects from different dance aspects. In addition to the fact that the tasks accomplished during my lectures were included in the final exam in theater dance, I got the impression that these classes contributed to students' liberation on stage and raised awareness that dance is an important tool of expression for the actor.
All the support and encouragement, the same as suggestions, advice and knowledge that Professor Bijelić selflessly shared with me, were of great importance for my professional development as a young professor. I am especially grateful for her inspiring words and assistance in my further steps of educational growth and PhD expertise, as she pointed out the best ways to achieve such a goal.
In addition to professional fulfillment, I felt that I was returning from the Erasmus+ programme not only having a new like-minded colleague, but also a friend who dedicated her spare time to me, showing me around the city and taking me for long walks on the Vrbas river so that we can exchange ideas and observations about students.