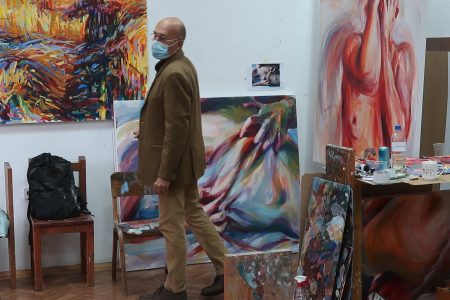 MY TEACHING MOBILITY IN BANJA LUKA: Dimitrije Pecić, Faculty of Fine Arts
9. фебруара 2022
Dimitrije Pecić
University of Arts in Belgrade, Faculty of Fine Arts
Erasmus+ Mobility for Teaching at:
 My visit to the Academy of Arts of the University of Banja Luka, in Republika Srpska, Bosnia and Herzegovina, from November 15 to 19 as part of the Erasmus+ programme (Staff Mobility and Teaching), was a very positive experience. My stay was very well organized and included 12 hours of teaching over a five-day period in the form of lectures attended by about 25 students.
The aim of my lectures was to introduce the students and teachers of the Painting and Printmaking Departments to my artistic work and experiences in the areas of drawing, painting and printmaking. The teachers and students were offered an in-depth introduction to my artistic explorations by means of a PowerPoint presentation of two large series/thematic wholes of my works in these media. Judging by the attention with which they followed the lectures as well as by the questions they asked, I can conclude that the obtained insight into my artistic explorations will enable them to make advances in their own artistic and pedagogical work. I introduced them to the general approach in my artistic explorations, but also to the artistic technology and painting and printmaking techniques I use. The teaching schedule I had prepared was successfully carried out thanks to the excellent organization by the teachers of the host institution.
During my visit, I also visited painting and printmaking studios in order to familiarize myself with students' works, and to offer my opinion and suggestions about them. Through lively discussions with the students and their professors, I gained insight into my colleagues' teaching methodology, and I pointed out to them how to improve some details in their teaching methods based on the experience with different methods at the institution I work for. I noticed that both my colleagues and my students reacted very positively to my observations and suggestions, and I, therefore, believe that my visit to the Painting and Printmaking Departments of the Academy of Arts in Banja Luka will prove useful to all. Likewise, getting to know the work of professors and students at the Academy of Arts was very important for me because I became aware that we have a similar approach to pedagogical work, curriculum design and similar teaching methods, which has enabled me to better perceive the qualities as well as the minor imperfections in the work of both institutions.
All the staff in the Office for International Cooperation at the Academy of Arts of the University of Banja Luka was very efficient and helped make sure that my stay proceeded in accordance with the planned schedule of activities.
Finally, I can conclude that I am very satisfied with my stay and activities at the Academy of Arts in Banja Luka. I believe that they will be useful to both parties and that they will enable even greater cooperation between the two institutions in the future.