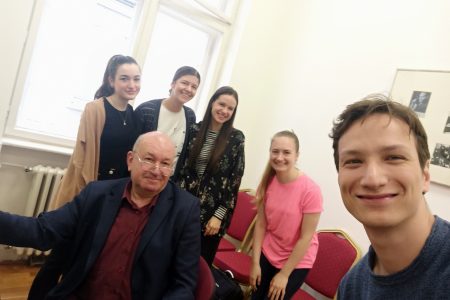 MY TEACHING MOBILITY IN BELGRADE: Aleksij Molčanov, University of Montenegro
12. јануара 2023
Aleksij Molčanov
University of Montenegro
Erasmus+ Mobility for Teaching at:
University of Arts in Belgrade, Faculty of Music
Dear colleagues,
Alow me to express my gratitude for the offered opportunity to stay at the Faculty of Music art in Belgrade under the Erasmus K107 program.
This experience is very important as a step up in my career, first of all as a professor, and then of course, as an opportunity to improve my knowledge in addition to classes with students. As an Accompaniment professor, I had a chance to work with your students in combination which I don't have in Cetinje. I had the opportunity also to compare syllabus programs in Belgrade Academy and in Cetinje, the way your students are involved in new developments, system study, and cultural exchange… I had the opportunity to meet with your lecturers and management and to spend time in very constructive and interesting conversations. I hope that my contribution to the quality of teaching in Your Academy will bring some new energy to your students as well as professors.
In the past, professors from the Faculty of Belgrade greatly helped the work of the Music Academy in Cetinje and our staff formation. That process lasted for years … It was also emotional to meet with former colleagues of your faculty that I met in Cetinje. The cooperation between us has not stopped and it is great that there is an Erasmus program to further help this cooperation in the future.