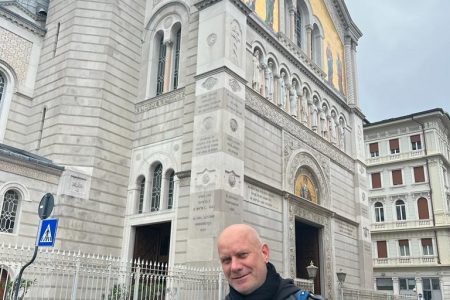 MY TEACHING MOBILITY IN RIJEKA: Marko Lađušić
21. јула 2023
Marko Lađušić
University of Arts, Faculty of Applied Arts
Erasmus+ Mobility for Teaching at
 

Academy of Arts in Rijeka, Croatia
I participated in the Erasmus+ program and attended the Academy of Applied Arts in Rijeka from May 5th to May 12th, 2023. During my time there, my colleagues, professors Goran Štimac, Hrvoje Urumović and Nikola Nenadić, introduced me to their students' work in sculpture. I worked with students of the graduate level, with Professor Štimac, introducing them to the challenges of artistic production. To other students, I have also provided feedback and guidance for their work made during classes. The main objective of my visit to Rijeka was to give lectures to sculpture students, focused on working in the terracotta technique, and also on the Terratoria project, which I've realised since 2008. to 2014, in cooperation with the University of Arts, Belgrade, Center for Fine and Applied Arts "Terra", Kikinda and Belgrade Summer Festival, Belgrade. Students expressed great interest in the opportunity to visit Serbia and Kikinda in person and to cooperate with our art faculties.
This year we have managed to arrange a pilot project for their visit, together with their professor, Darija Žmak Kunić, to the student workshop in Kikinda, which also hosted students of Belgrade University. I believe it is very important for students from Croatia and Serbia to visit each other's country as often as possible, in order to create good communication, culture and reality of project realizations.
I have also arranged arrival of Rijeka students to the International Art Residency in Tršić, which takes place in July, in Tršić near Loznica. This residency mostly hosts graduate and doctoral students from the University of Arts in Belgrade. I think that the cooperation between different academies and faculties is very important, so that students can exchange their experiences and broaden their own perceptions of the artistic production.
I collaborated with the director of the Museum of the City of Rijeka, Ervin Dubrović, and arranged a further collaboration with this reputable institution. They were partners of the University of Arts Belgrade, the Cultural Center of Belgrade and the Museum of Yugoslavia in Belgrad. We also visited the Museum of Civilization of Istra, Rijeka, and Dalmatia in Trieste, Italy, where Ervin Dubrović introduced me to the curatorial team of the museum. With colleagues from Rijeka we have also arranged the continuation of collaboration on art exhibitions, so I expect that we will realize exhibitions of student works in visual arts in Belgrade and Rijeka. I introduced Professor Letricija Lindarić, the vice-dean of the Academy in Rijeka, with my colleague from the Faculty of Fine Arts, Assistant Dunja Trutin, in order to facilitate further collaboration on projects organized by the Faculty of Fine Arts, which Professor Lindarić expressed keen interest in. To the Dean of APURI, Professor Hrvoje Urumović, I proposed collaboration with the Department of Scene Design of the Faculty of Applied Arts, Belgrade, and also with the Faculty of Dramatic Arts, Belgrade, since APURI also has the Department for Study of Acting.
Rijeka is a wonderful city and a very inspiring environment, and APURI has great resources and highly component staff, making it ideal for more successful collaborations in the future.