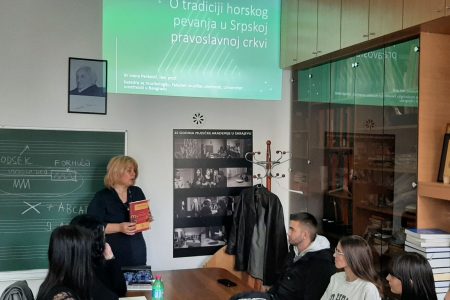 MY TEACHING MOBILITY IN SARAJEVO: Ivana Perković, Faculty of Music
21. јула 2023
Ivana Perković
University of Arts in Belgrade, Faculty of Music
Erasmus+ Mobility for Teaching at:
Academy of Music, University of Sarajevo, Bosnia and Herzegovina 
This report provides an overview of my Erasmus+ teaching experience at the Musicology and Ethnomusicology Department at the Academy Of Music, University of Sarajevo, Bosnia and Herzegobina. The purpose of my visit, conducted between 23rd and 29th of April was to contribute to the department's academic program, share my expertise, and engage in cultural and research cooperation exchange with students and faculty members.  
Before departing for the host institution, I collaborated closely with colleagues at the Musicology and Ethnomusicology Department to discuss the teaching objectives, teaching content, and expected outcomes. We identified the specific topics I would cover and the teaching methods I would employ. Additionally, I was familiarized by colleagues about curriculum, particular courses, research interests, and the academic background of the students. 
During my mobility period, I conducted a series of lectures for undergraduate students of musicology and ethnomusicology. The topics I covered included the dialogue between orality and literacy in Serbian chant, the tradition of choral singing in Serbian Orthodox church and the digital musicology, tailored to the needs and interests of the students. I employed interactive teaching methods, encouraging student participation, critical thinking, and active engagement in class discussions. I also provided examples on research methodologies, and scholarly presentation skills. 
I actively collaborated with faculty members at the Musicology and Ethnomusicology Department, particularly with professor Dr. Jasmina Talam Head of the Institute of Musicology of the Academy, and professor Dr. Tamara Karača Beljak, the Vice-Rector of the University of Sarajevo. We were exchanging ideas, sharing research findings, and discussing  relevant issues.  
Throughout my teaching mobility, I encouraged students to actively participate in class activities, ask questions, and express their opinions. The students showed great enthusiasm, demonstrated a strong work ethic, and actively pursued knowledge beyond the classroom. 
at the Musicology and Ethnomusicology Department offered me a unique opportunity to engage with the local culture and music traditions. I encouraged students to share their musical experiences, traditions, and research perspectives during class discussions. This exchange of cultural knowledge enriched the learning environment and deepened our understanding of diverse musical practices. 
The interaction with faculty members provided valuable insights into their research methodologies and academic practices, fostering future collaborative opportunities.