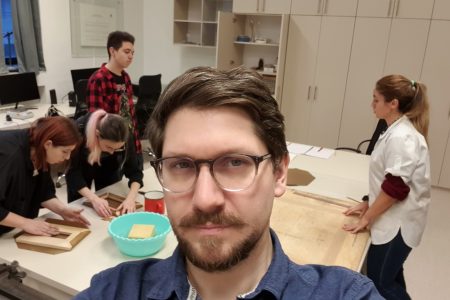 MY TEACHING MOBILITY IN SARAJEVO: Stefan Tasić, Faculty of Fine Arts
12. јануара 2023
Stefan Tasić
University of Arts in Belgrade, Faculty of Fine Arts
Erasmus+ Mobility for Training at:
University of Sarajevo, Bosnia and Herzegovina
I went to the Academy of Fine Arts (AFA) in Sarajevo at the same time as my colleague Svetlena Volic. She participated in the mobility program as well, but in a teaching capacity, whilst I was enrolled in the administrative training program, as Mobility Coordinator at the Faculty of Fine Arts (FFA) in Belgrade. We were welcomed very warmly and made to feel at home right away. 
With AFA Dean Dubravka Pozderac-Lejlić and Vice-Dean for International Cooperation Srđa Hrisafović, we had a really interesting and productive conversation on the first day of the mobility. We discussed all of the opportunities to strengthen cooperation between the two institutions within the context of regional collaboration. 
Later meetings with AFA's Mobility (Erasmus+) Coordinator Nađa Softić allowed us to share our experiences with the program's implementation (the way mobility is organised at AFA and FLU, how to translate academic records – Transcript of Records, the ways the mobility can be further promoted…). 
As an assistant professor (docent) teaching painting technology at FFA in Belgrade, I hoped to collaborate with associate professor Đenita Kuštrić, a colleague at AFA in Sarajevo. Due to her being on maternity leave, this was not possible; instead, I was able to have really productive conversations with her assistant, Ira Skopljak. I had the chance to examine the Painting Technology curricula at AFA, which was crucial for me because Metka Kraiger-Hozo, Ira's mentor professor, wrote one of the field's most important books. During the Painting Technology course, I also got the chance to speak with students at AFA and compare their experiences with those of students at FLU.  I'll try to incorporate some unique techniques, like pseudo-mosaic, into the Painting Technology program at FFA, as inspiration from these experiences. We also discussed the prospects for organizing joint student exhibitions from the two institutions. 
The other day, Svetlana Volic, Nađa Softić and I met at the University of Sarajevo's Office for International Cooperation. We discussed their experiences with the Erasmus+ program and the challenges they confront in order to make it work. We also had a brief tour of the University of Sarajevo's building to speak with academic personnel. 
Sarajevo is a beautiful city. Its unusual architectural mix of Ottoman and Austro-Hungarian elements with wonderfully hospitable people must be experienced to truly appreciate its unique character. I spent all of my free time with my friend Svetlana Volic and colleagues from AFA, exploring the city, going to galleries, museums, and monuments, and taking leisurely strolls through the picturesque streets of Baščaršija.  As an associate professor of Painting Technology, visiting a museum next to the Church of the Holy Archangels Michael and Gabriel was quite important to me. I was able to study an egg tempera (on a wooden panel) painting technique from one of the finest collections of orthodox icons, which dates back to the 1600s. 
I also had the good fortune to see the "Ishodišta" exhibition at the Art Gallery of B&H, which featured paintings by the first four generations of professors at AFA, beginning in the year 1972. Being that many professors from the FFA, including some of the AFA founders, worked at the AFA, it was quite satisfying to discover the close relationships that existed between our faculties or academies. As the FFA Mobility Coordinator, I'll do everything in my power to reestablish our frayed links.