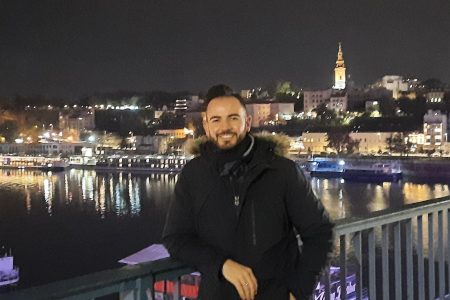 MY TRAINING MOBILITY IN BELGRADE: Félix Guerrero, Andalusian Higher School of Art and Design in Granada
9. фебруара 2022
Félix Guerrero
Erasmus+ Mobility for Training at:
University of Arts in Belgrade, Rectorate
I never imagined that this experience was going to be so gratifying! My first big trip during the pandemic and it could not have been better!
As Erasmus+ Coordinator at Andalusian Higher School of Art and Design (ESADA) in Granada (Spain), I was very grateful to have the opportunity to meet one of our partners, the University of Arts in Belgrade, during my Training Mobility. This trip took place from 25th October to 29th October 2021. I also had the opportunity to visit two of our Fashion Design students, Paula Fernández and Alejandro Ortega, who are doing an Erasmus+ mobility at the Faculty of Applied Arts. Besides, ESADA had the pleasure of hosting one of the incoming students from this Faculty, Isidora Vulić, who did an Erasmus exchange during the first semester of the academic year 2020-21. And it was very nice to see her again in Belgrade, but in a different way.
During my mobility, I could meet and put a face to the Head members of their International Relations Office, Mrs. Jasmina Milovanović and Mr. Sava Popović (because we are all the time writing emails to each other). They were very approachable and we were able to discuss good practices that have been established in the partnership, as well as ideas to keep on working on new agreements. Now, everything will be easier when it comes to communication. In addition, I had the pleasure of meeting Mrs. Zana Bogunović and Prof. Miloš Ilić at the Faculty of Applied Arts, with whom I could discuss our methodologies in order to improve interschool cooperation. They showed me some of the different buildings and facilities of this Faculty and the rectorate of University of Arts in Belgrade, which are located right in the city centre, near the beautiful Kalemegdan Park and next to the Sava River. Such stunning views they have! And I fell in love with their library.
One of the targets of my visit was to do a presentation about my school for their students. I hope it was motivating for all of them and we will be happy to welcome more incoming students, teachers and staff at ESADA in the near future. I am sure that my visit has been very positive and it will let both institutions strengthen our relations in the future and, of course, we will be able to collaborate on new projects together. I can only say good things about my visit and my stay in Belgrade, an unknown place to me with lots of incredible places and monuments full of charm and history everywhere. Nice people and delicious Serbian food. And I was so lucky with the sunny weather. I was also able to enjoy one of the most beautiful sunsets that I have seen from the Kalemegdan Park.
Thank you everyone for giving me this opportunity and for being marvellous hosts. And a special thanks to Isidora for letting me discover many wonderful places in this amazing city. I really felt like a real Serbian from day one!  Without a doubt, I will come back soon to visit you again.
Hvala!